Things You'll Need
Iron

Sewing machine

Thread

1/2-inch wide elastic

Scissors

Safety pin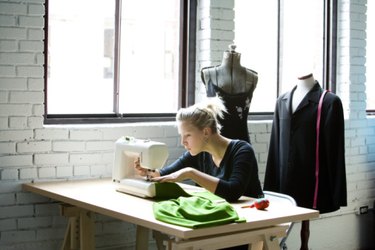 If you have a pair of pants or a shirt that needs cuff tightening or alterations, you can sew elastic into the cuff. This project is simple to do yourself with a sewing machine and basic sewing skills. Sewing a casing and feeding elastic through is a method of tightening the cuff or adding poof to the leg or sleeve. A casing for the elastic lets you alter the tightness in the future by removing the stitching and replacing the elastic.
Step 1
Open the stitching around the cuff if there is a hem. Press the cuff with a hot iron to remove any bumps and flatten the fabric.
Step 2
Turn the cuff under -- to the backside -- 1/4 of an inch and press with an iron to hold in place. Turn the cuff under another 3/4 inches and press with an iron to hold in place.
Step 3
Sew the turned-under cuff casing about 1/8 inch away from the inside edge, leaving a 1-inch long hole to insert the elastic.
Step 4
Cut a piece of 1/2-inch wide elastic with the scissors to a length that fits around the wrist or ankle. Secure a safety pin on one end of the elastic to help pull it through the cuff casing in the next step.
Step 5
Feed the safety pin through the hole of the casing. Use a push and pull action to move the pin and elastic around the casing. Pin the opposite end of the elastic to the edge of the casing so you do not pull it through.
Step 6
Push and pull the safety pin and elastic through the casing and pull it through the hole when finished. Take the pin off the elastic, hold both ends together and sew to secure in a loop.
Step 7
Tug on the cuff casing to pull the sewn elastic end into the casing. Sew the casing opening closed using a straight stitch on the sewing machine or by hand stitching.
Tip
Read the care instructions on the garment tag to make sure you can iron the fabric without problems. Iron cotton fabrics on a medium-high setting if there is no label. Avoid ironing nylon or other synthetic that may melt from heat.