Things You'll Need
Basin

Water

Sink

Cotton cord

Microwave

Tongs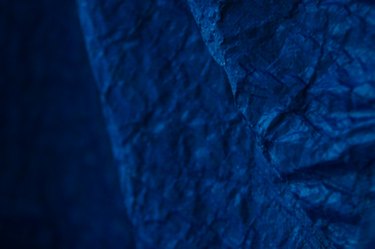 For a laid-back style that provides a versatile base for any garment, consider crinkling your chosen fabric. This textured material can be made of nearly any fiber, resulting in a trendy fashion that is easy to care for. When making garments out of it, however, remember to allow some give in the garment's cut so that the crinkles are visible. Prepare cottons for this process by washing and preshrinking them in the dryer.
Step 1
Fill a basin or plastic tub with hot water and immerse your material. Ensure that all the layers of fabric are completely saturated before removing.
Step 2
Wring out your material over your sink, using a uniform twisting motion for the length of the fabric.
Step 3
Twist the length of the material until it resembles the texture of a rope. Coil the fabric in on itself to make a circle and secure it in place with lengths of cotton cord.
Step 4
Place the coiled material into the microwave and heat it slowly using one-minute intervals. Test out a wet scrap of your material first to ensure that the material does not singe. If it does, or if your material is metallic, allow the material to dry in its coil for three to four hours and then lay flat to dry the rest of the way. Recoil in the same manner until you intend to use it. The crinkling will not be as permanent, but you can keep it looking sufficiently wrinkled with the help of constant coiling.
Step 5
Remove the material from the microwave with the tongs when the edges begin to dry out. Lay it out flat to dry the rest of the way, then return it to the coiled shape.