Chain-link fences are a type of aluminum fence found around many houses and businesses. They range in size from 4 feet tall up to 8 feet and sometimes taller. While chain-link fences are good at keeping intruders out, attaching barbed wire to the top of a chain-link fence that has already been installed is an added security measure that can go a long way toward helping to protect your home or business.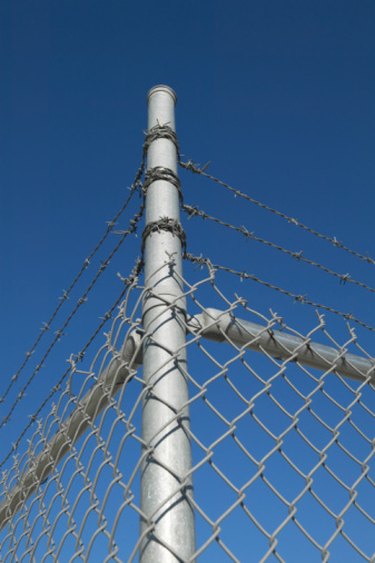 Things You'll Need
Tie Wire

Power Drill

Gloves

Set Screw

Wire Strainer

Barbed Wire Corner Arms
Step 1
Attach barbed wire corner arms to each top rail corner post on the existing chain link. Slide the arm over top of the first top rail post and secure it into place with the provided set screw. Tighten the screw down with a power drill and repeat the process for all of the remaining corner arms.
Step 2
Attach the first piece of barbed wire to the bottom clip located on any of the corner arms. There are three clips on each corner arm to attach the barbed wire to. Tighten it in place with a small piece of tie wire and run the barbed wire down the chain link to the next post.
Step 3
Clip a wire strainer onto the barbed wire and pull it tight. Attach it to the clip on the corner arm with a piece of tie wire and run it to the next post. Continue in the same manner until you reach the original post.
Step 4
Attach the second row of barbed wire to the clip on the corner arm just as you attached the first row and run the barbed wire around the fence the same way the first row was installed. Repeat the process for the third and final row of barbed wire.
Warning
Always wear gloves when you are working with barbed wire. Barbed wire is very sharp and can cause lacerations if it comes into contact with your skin. Long-sleeved shirts and long pants are also recommended.