Things You'll Need
Under water photos

Sketch pad

Fabric

Sewing notions

Sewing machine

Wire

Costume cosmetics

Hair styling products

Footwear

Camera

Project binder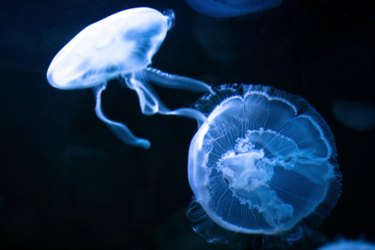 An under-the-sea costume doesn't have to be limited to a cartoon-like evil sea witch. Depending on your event, you may wish to create a sophisticated garment inspired by underwater beauty. Whether you choose to craft a quick costume with the addition of a few easy accessories or a more conceptual interpretation of a sea creature, color and creativity abound in tropical waters. From sting ray to coral reef, jelly fish to great white shark, there is no boundary to your inspiration. Use different textures, colors and silhouettes to make a stunning under the sea dress costume.
Step 1
Study underwater photos and choose your inspiration. Think of ways to evoke a jellyfish with gauzy blue material; mimic a sleek grey stingray in a mini-dress with wide back and a sharply tapered train that sweeps down to the floor; or stitch a garment with a pattern of iridescent fish scales. Whatever creature you decide to imitate, consider design factors like silhouette, color, texture and proportion.
Step 2
Sketch ideas and finalize which ones you wish to create, depending on factors like your wearer's figure and your budget, skill level, and time line.
Step 3
Sew the pattern you have created by tracing it onto tissue paper, then pinning that paper to fabric and cutting and sewing. Or, add underwater-specific elements to a plain, existing dress. Save time by using safety pins or Velcro to join pieces. Adjust your measurements and fit as needed.
Step 4
Include a headpiece, makeup, and footwear to finalize the look of your final under the sea dress costume. Billow transparent blue fabric in a surrounding veil or hood around the head for the body of the jellyfish, for instances, with the dress made of strategically placed tentacles, the face covered in pale white makeup, and footwear consisting of clear vinyl heels. Enhance a coral reef-inspired one-piece pantsuit with branches of orange coral protruding from a messy up-do, or add orange, purple and yellow eye shadow and textured knee-high boots for a vertical, structured, branching appearance. The options are limitless.
Step 5
Keep your under-the-sea costume patterns for future use by storing them in airtight containers with photos of the finished costume and notes for future changes or alterations. Place a picture of the original ocean inspiration alongside it.