Things You'll Need
Beading wire, 18-gauge

Wire cutter

Pliers

2 clear Swarovski crystal beads, large

8 assorted Swarovski crystal beads, medium

4 clear Swarovski crystal beads, small

Plastic string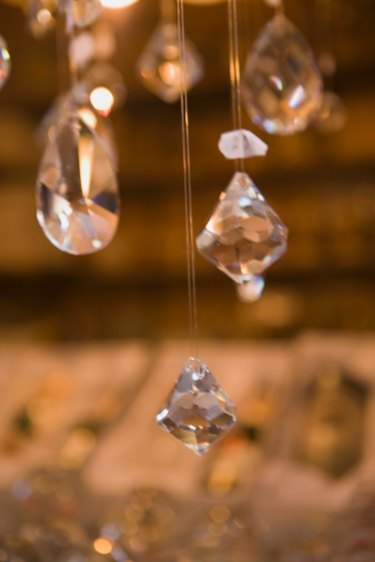 Swarovski crystals are known as some of the highest-quality crystals in the world. The color, consistency and cut of Swarovski crystals make them popular accents for many items, from wedding gowns to cell phone cases. The company's crystal beads boast rich colors, making them simple and attractive materials for a light-reflecting suncatcher. As long as it has a hole big enough to fit the wire, any bead size or shape can work in the suncatcher craft.
Step 1
Cut a 30-inch piece of beading wire with the wire cutters. Bend a "U" shape into the bottom 2 inches of the wire. Slide a large, clear, Swarovski crystal bead onto the wire, pushing it down to sit in the middle of the bend. Use the pliers to gently wrap the short wire end around the main wire, just above the bead, to secure the crystal in place.
Step 2
Slide two medium-size crystal beads in assorted colors onto the wire. Slide one small clear crystal bead onto the wire. Make a small, leftward crimp in the wire with the pliers just above the clear bead.
Step 3
Repeat step two, sliding two colored beads and one clear bead on the wire. Crimp the wire to the right. Repeat the process again, crimping the wire to the left, and once more, crimping the wire to the right.
Step 4
Slide a large crystal bead on the wire, pushing it up against the last crimp in the lightening rod suncatcher. Bend the remaining wire in a loop with the pliers, twisting the wire to secure the loop.
Step 5
Thread a plastic string through the top loop on the suncatcher. Secure the string to a hook or nail to hang the suncatcher in front of a window. Create multiple lightening rod suncatchers and hang them across the top of the window to turn the colorful beads into a dangling window treatment.
Tip
Bead measurements are relative, although small beads are usually around 1 inch in size, medium are around 2 inches in size and large are around 3 inches or more in size.
Mix and match the beads for the greatest detail. For example, one cluster in the lightening rod shaped suncatcher could contain a round red bead, yellow square bead and clear diamond bead. You can also alter the suncatcher shape, such as bending the wire into a circle instead of a lightening rod, to create multiple decorations. Other easy shapes include a heart, star, triangle and rainbow.