Things You'll Need
Ham

1 lb. dark brown sugar

¼ lb. butter

¼ cup water

¼ cup orange juice concentrate

1/8 tsp. cinnamon

1/8 tsp. nutmeg

Roasting pan

Saucepan

Aluminum foil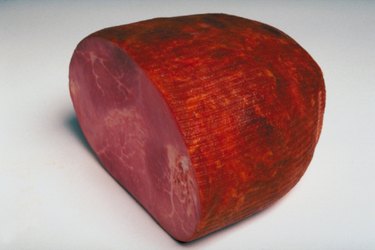 A ham basted with butter and brown sugar is a delicious main dish for an evening meal or a special event. To get the full flavor of the sugar and butter, you must mix them with a liquid mixture, usually water and either apple or orange juice. This helps keep the ham juicy and flavorful during the cooking process. Basting the ham means to simply brush the meat with a glaze at regular intervals as it cooks to let the flavor continuously soak into the meat.
Step 1
Mix the sugar, butter and water in a saucepan and simmer on low heat until the butter is melted.
Step 2
Add the orange juice, cinnamon and nutmeg to the pan, stir and simmer until the sugar is fully dissolved.
Step 3
Remove from heat and keep out to use to baste the ham.
Step 4
Baste the ham by brushing the glaze over the ham. You want to use enough to cover the ham but don't use all of the butter and brown sugar glaze.
Step 5
Bake the ham at 325 degrees for 1 hour and 10 minutes in a foil-lined roasting pan.
Step 6
Baste the ham every 10 minutes. To baste the ham as it cooks, just pull the oven rack out slightly, brush the ham with the glaze again and put the oven rack back in its place.
Step 7
Broil the ham for the last 5 minutes of baking time. This helps to caramelize the glaze.
Step 8
Take the ham out of the oven and let it sit for 5 minutes before carving to allow the juices to settle.