Things You'll Need
Blue and gold stripped fabric

Fabric scissors

Paper clip

Gold card stock

Hot glue gun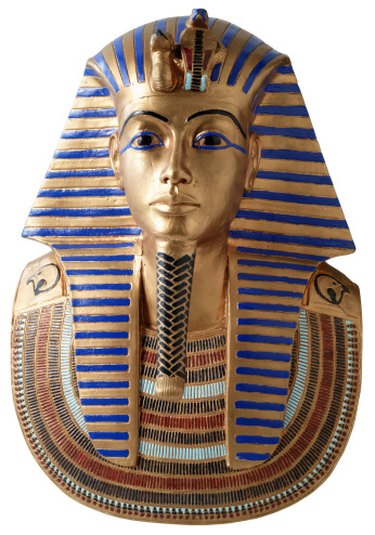 Instead of becoming a common superhero next Halloween, consider dressing up like a character from history. A pharaoh, where were the kings of Ancient Egypt who built the Pyramids. Pharaohs were well known for the special headdresses they had to wear. These headdresses were called nemes. When making your Pharaoh hat, you will need to include a common symbol found on the nemes, which is the cobra.
Step 1
Cut a 24-inch by 18-inch piece of blue-and-gold stripped fabric. If you do not have blue-and-gold stripped fabric, substitute any other stripped pattern.
Step 2
Wrap the fabric around the child who wants to turn into a pharaoh. Place a paper clip on the bottom of the fabric where the two edges meet. Allow the top of the fabric to flop over from front to back.
Step 3
Cut the shape of the top portion of a cobra out of gold colored card stock. Keep the cobra straight like it is standing up ready to strike - not curvy as if it was slithering around.
Step 4
Attach the cobra to the front middle of the Egyptian hat. You can do this with a hot glue gun, or a piece of Velcro.
Step 5
Wrap a gold-colored ribbon around the base of the Egyptian headdress. It will go across the bottom of the cobra. Tie the ribbon in a knot in the back to hold the headdress in place.
Tip
You can substitute the gold-colored card stock for a sheet of cardboard and gold paint.