Things You'll Need
Plastic name tag

Lab coat

Wire pants hanger

Construction paper

Scissors

Tape

Sticker label

Marker

Satchel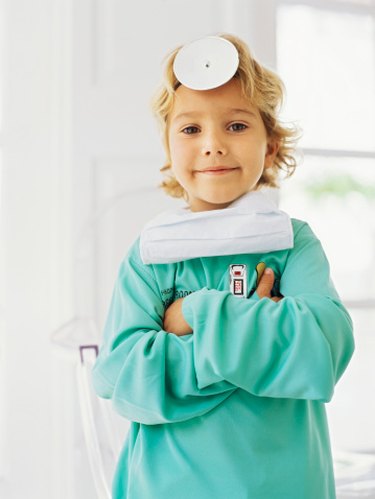 If you're putting together a doctor costume, perhaps for Halloween or a school play, you may want a few prop accessories to help finish off the look. Using some basic tools and materials you can make doctor props like custom lab coats, stethoscopes or doctor tool bags. These props take little time to make but will have a big impact on the overall look of your costume, making it easier to determine what you're supposed to be dressed as.
Custom Lab Coat
Step 1
Print a label on your home computer with your fake doctor name, like "Dr. David Kessler, MD." Print this on a piece of plain computer paper.
Step 2
Cut the blank paper so you are left with a small slip of paper with the text.
Step 3
Slip the paper into a plastic name badge protector, similar to the ones handed out at conferences. This can be purchased at most office supply stores.
Step 4
Clip the name tag onto the pocket of a plain lab coat to give it a custom look.
Stethoscope
Step 1
Remove the cardboard tube from the bottom of a wire pants hanger. Bend the hanger to make a V.
Step 2
Cut a 2 inch circle from a sheet of construction paper and tape it to the hook part of the hanger, so that the hook is covered.
Step 3
Hang the stethoscope from your neck with the part with the paper circle hanging down to look like the end piece of the stethoscope.
Tool Bag
Step 1
Write the name of your doctor persona on to a sticker label, like those used for address labels.
Step 2
Place the sticker label on to a small leather satchel that looks like an old fashioned doctor bag.
Step 3
Fill the bag with items that a doctor might carry, like popsicle sticks, pill bottles and a thermometer.