Things You'll Need
Tailor's chalk

Ruler

Scissors

Needle

Coordinating thread

Pins

45-inch shoelaces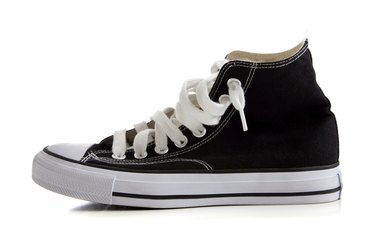 Turn your classic high-top Chuck Taylor Converse shoes into low tops in less than half an hour. Create a custom look by using a complementary-colored thread to sew the cut edge, or select a different colored shoelace. With very little work and a few supplies, you'll have a renovated pair of truly unique "Chucks" in no time.
Step 1
Put the shoes on your feet. Mark how high you would like them to be as low tops with tailor's chalk. Choose a height that falls in between the shoelace grommets. Remove shoes. Remove the laces.
Step 2
Place the shoes on your work surface. Place a ruler on the mark and draw a straight line on both sides of the shoe. Do this for the right and the left shoe.
Step 3
Pull the tongue forward so it is out of the way. Cut along the line with sharp scissors.
Step 4
Thread a needle with coordinating- or complementary-colored thread, double thread the needle and then tie the ends in a knot. Insert the needle into the edge of the cut shoe. Pull the needle through and then over the top of the edge of the shoe to create a whip stitch. Do not pull too tight. If the edge folds, it is too tight. Insert the needle back through the shoe and repeat. Go around the entire top cut edge of the shoe. Knot the thread and cut at the end. Repeat for the other shoe.
Step 5
Create a fold in the tongue of the shoe so it lines up with the edges of the shoe. Pin the tongue. Double thread the needle and knot. Insert the needle into the tongue from the backside of the tongue. Pull through and insert back into the tongue to create a straight stitch. Stitch across the tongue to secure the fold and remove the pin. Do this for both shoes.
Step 6
Tip
Use a thimble if the needle is having difficulty going through the canvas.