Whitewashing is a painting technique used to create a semi-transparent look on wood and stone. When applied to a stone fireplace, the white is transparent enough to allow the mortar and texture of the brickwork to show through. Whitewash is nothing more than white paint that is thinned down so that it has a watery consistency. This thinning process causes less paint to stick and thus creates a tint rather than complete coverage.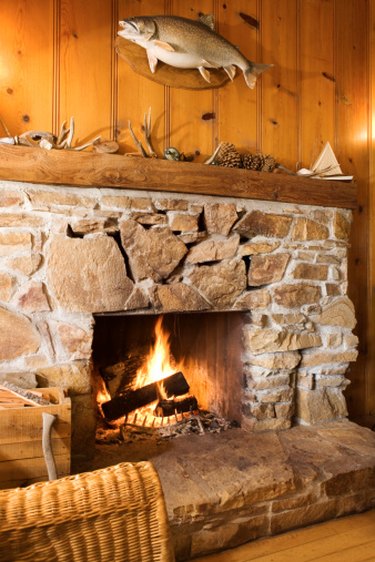 Things You'll Need
White, Satin Oil-Based Paint

Turpentine

Plastic Tarp

Painter'S Tape

Yellow Oxide Pigment

Disposable Gloves

Paint Stirrer

Wide Paint Brush

Rags

Bucket
Step 1
Open plastic tarps and lay them on the floor under the stone fireplace to protect them from paint splatters. Apply painter's tape to the walls that adjoin the fireplace to prevent from getting paint on them. It's also a good idea to open any doors and windows in the room to allow fumes to escape.
Step 2
Fill a bucket with 2 quarts of white, satin oil-based paint, 2 quarts of turpentine and 1/16 ounces of yellow oxide pigment, according to This Old House. Stir the mixture up with a paint stirrer until it is thoroughly mixed.
Step 3
Insert a wide paint brush into the whitewash solution and paint it onto the stone fireplace making sure to work the bristles around any curves and in the mortar crevices. Continue painting the fireplace until it is completely covered in a thin coat of the whitewash mixture.
Step 4
Put on disposable gloves and wipe the fireplace stone with a cloth rag gently to remove some of the paint. Turn the cloth often as you wipe and continue until you achieve the desired level of transparency in the paint.
Step 5
Allow the whitewash to dry for 24 hours. Remove the painter's tape and roll up the floor tarps.
Tip
There are also whitewash stains that you can apply but they are designed for wood and may not adhere to all stone types. Apply it in the same manner as the standard whitewash recipe.