Things You'll Need
1/8-yard dark-colored cotton quilting fabric

1/8-yard light-colored cotton quilting fabric

Ruler

Scissors

Size-10 needle

Cotton thread

1/4-yard cotton quilt batting

1/4-yard cotton muslin fabric

Four safety pins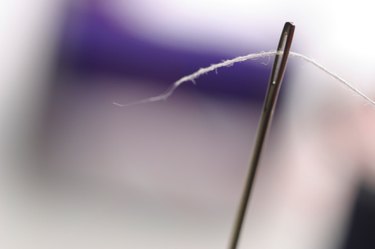 A prayer cloth can be used for spiritual healing and to provide comfort for the ill. Prayer cloths are often placed over the suffering while loved ones gather to pray. The cloth can also be held while praying, providing a visual and tactile object of focus. Soldiers have been known to carry small prayer cloths into battle in their pockets or helmets. Hand stitching is a key element to a prayer cloth, since prayers are spoken during the making of them.
Step 1
Cut both the dark and light fabric into two 4-inch squares each.
Step 2
Place one light square on top of one dark square, with the right sides of the fabrics facing each other. Pin along the top edge of the squares. Sew a straight stitch with the needle and thread 1/4 inch from the edge to connect the squares. Repeat this process with the remaining squares.
Step 3
Sew the two pairs of squares together, alternating the dark and light squares to make a checkerboard pattern.
Step 4
Cut a piece of quilt batting to the same size as the sewn-together squares. Cut a piece of muslin to the same size.
Step 5
Layer the muslin, the batting and the sewn-together squares on top of each other on a flat surface. Put safety pins through all three layers in the center of each square.
Step 6
Hand sew through the seams to connect the three layers with the needle and thread.
Step 7
Cut a 2-inch-wide and 34-inch-long piece of muslin for the binding. Piece together strips, if needed, to achieve the 34-inch length.
Step 8
Place the binding on the top of the prayer cloth at one unfinished edge. Attach the binding to the cloth with a hand-sewn seam 1/4 inch from the edge. Fold the binding to a right angle at the corner and continue attaching it to the prayer cloth.
Step 9
Fold the binding 1/2 inch twice to the back of the prayer cloth and hand stitch it in place.