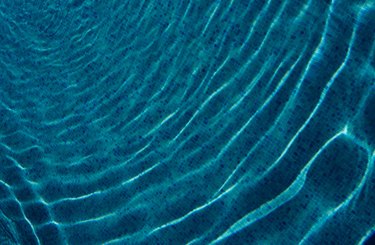 When the weather begins to get colder, swimming pool owners shut down their pool systems. Preparing a pool system for the winter eliminates the danger of damage to the pool equipment occurring due to the cold temperatures. One component of the winterizing process is the addition of antifreeze to the pool's plumbing lines. Antifreeze in the pool lines prevents water from freezing and damaging the plumbing. Put antifreeze in the skimmer opening after you've drained the water to the appropriate level.
Step 1
Place a sump pump in the pool water. Lower the water level of the pool to just below the jet fixtures and skimmer, using the sump pump.
Step 2
Remove the skimmer lid and basket from the skimmer body. Pour antifreeze directly into the skimmer hole. Typically, 1 gallon of antifreeze is enough to protect the lines.
Step 3
Place a skimmer plug or gizmo in the skimmer hole. Make sure the plug or gizmo fits tightly into the skimmer and that no water or air can escape.
Tip
Always add antifreeze to your pool's lines during the winter season to prevent any cracks or other cold damage to the lines.
Warning
Make sure you use antifreeze specifically intended for use in pools.