Things You'll Need
Shoebox

Construction paper

Scissors

Glue

Markers

Card stock

String

Twine

Tape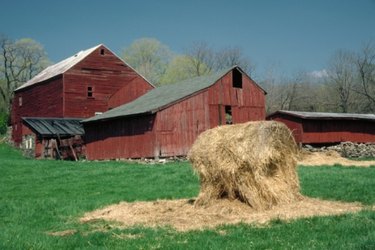 Shoebox dioramas make fun and creative class projects for young students. In addition to challenging their art skills, dioramas can also contain an educational component, whether it's learning about life on a farm with a farm-themed diorama, or what life is like on another planet with a space-themed diorama. Your child can create his own 3-dimensional farmhouse diorama at home with a few simple household items and craft supplies.
Step 1
Trace the bottom of the shoebox on a piece of construction paper. Cut out the rectangle.
Step 2
Flip the box on one side, and trace the side on another piece of construction paper. Cut out the rectangle. Repeat to make a second rectangle.
Step 3
Color or draw a farm background on the construction paper. The large rectangle is the main view, while the 2 smaller rectangles will be on the sides of the box. Draw clouds, birds, trees, etc. Glue the background pieces to the back and side walls in the box.
Step 4
Trace the bottom of the box on a piece of a green construction paper. This will serve as the grassy floor of the diorama. Glue to the bottom inside the box.
Step 5
Draw or print out farm animals, such as horses, cows, chickens and pigs. Color the animals, and cut out.
Step 6
Arrange the animals how you want them in the box. You may want to add a small construction-paper pond if you have ducks or aquatic animals at your farm.
Step 7
Make a stand for each animal by cutting a small strip of card stock, 1 by 2 inches long. Fold in half.
Step 8
Glue 1 end of the strip to the back of your animal picture and the other end to the grassy floor. The animal should stand upright. Hang flying animals, such as birds, by taping a piece of string to the ceiling of the box.
Step 9
Draw or print out barn doors and a roof on a piece of red construction paper or card stock. Size the doors so that they are the length and width of the shoebox.
Step 10
Make a door handle using twine. Secure the 2 ends to the paper with tape.
Step 11
Glue the roof to the top of the shoebox. Tape the barn doors to the left side of the shoebox, and pull on the handle to reveal your farm diorama.