Things You'll Need
Crocheted baby afghan

Ruler

Soft lining fabric

Scissors

Sewing pins

Sewing needle

Thread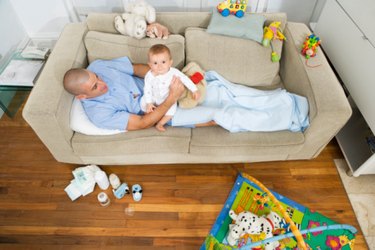 Small crocheted afghans make heartfelt gifts for babies. Your homemade gift will be valued for its warmth and softness as well as for its timeless beauty and your thoughtfulness. Adding a lining to a crocheted baby afghan gives the work extra thickness. The lining also covers any lace or holes in the crocheted design, helping to prevent small fingers from getting stuck in the blanket. Make sure to use a lining fabric that will feel soft and comfortable against the baby's skin.
Step 1
Measure the dimensions of the crocheted baby afghan with your ruler. Transfer these measurements to the soft lining fabric, adding a 1/2-inch seam allowance to each side.
Step 2
Cut the lining out using scissors.
Step 3
Fold over each edge by 1/2 inch onto the wrong side of the fabric. Press and pin the fabric into place for hemming.
Step 4
Sew the folded edge of the fabric lining into place using the sewing needle and thread.
Step 5
Line up the fabric lining evenly with the crocheted afghan, with the wrong sides facing each other. Sew the lining and afghan together using an oversewing stitch. Do this by inserting the needle vertically through both pieces. Bring the needle through, then repeat the insertion a small distance away to create a diagonal stitch. Do this for every edge to complete the lining.
Tip
Use a double-fold hem when sewing backing for a lace blanket, as the raw edges might show through the holes.
Make sure your stitches are not too tight to avoid bunching up the fabric.