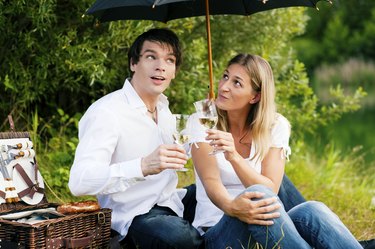 Getting ready for a picnic, only to see dark rain clouds overhead as you load up your basket, shouldn't be enough to make you decide to stay home. Although lightning means you should reschedule your picnic, a light rain can be only a minor hiccup during your outdoor meal, provided you have the right gear.
Going Undercover
Placing a cloth blanket on wet grass will have you soaked in a hurry. Instead, buy a picnic blanket with a vinyl underside or keep a tarp or a handful of garbage bags with your picnic gear. If the grass is already wet by the time you're ready to spread out your blanket, place the tarp or garbage bags on the wet grass before laying down the blanket. Ensure the tarp or bags are large enough to fit under the entire blanket.
Under the Umbrella
Forget about using small hand umbrellas; large, patio umbrellas give better cover. They're a little more challenging to handle, but if you can drive them into the ground, they provide a significant degree of protection from the elements. If you plan to picnic in a rocky terrain, carrying a weighted umbrella stand helps you set up your umbrella quickly. Even with the umbrellas, pack adequate rain gear, such as waterproof shoes, pants, jackets and hats, for those in your group.
Plastic Cooler
Inclement weather shouldn't affect the food you take on your picnic. If you're concerned about your picnic basket getting wet, carry it from your vehicle to the picnic site in a garbage bag or, better yet, pack all your goods in a plastic cooler. The cooler's tight seal will prevent your lunch from getting soggy, while its waterproof nature makes it safe to store beyond the dry perimeter of your shelter to give more room to your group.
Enjoy Some Entertainment
Part of enjoying a picnic is getting the chance to take a post-meal walk or play a game of Frisbee in the grass. If the rain prevents you from such activities, be prepared by packing a deck of cards or a board game or two with your picnic gear. After your meal, carry your basket and cooler back to your vehicle and spread out the game under the protection of your umbrella.