Things You'll Need
Large pot

2 tbsp. salt

Beans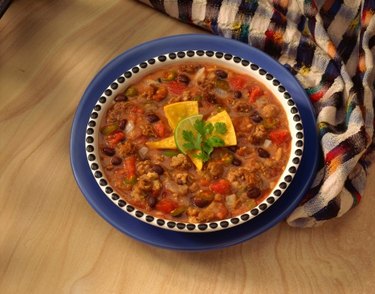 Parboiling is the act of partially boiling food to speed up a cooking process. When making bean soup, you need dry beans that will cook fast enough to be done with the rest of the soup. However, beans take longer to cook than the rest of the ingredients. But by parboiling the beans, you can get a head start on the bean soup recipe. You will still need to start the parboil process in advance since the beans will need to sit for at least an hour before you can add them to a bean soup.
Step 1
Rinse the beans before using them. Try to sort through the beans and toss any broken beans.
Step 2
Fill a large pot about half way with water and bring the water to a boil over high heat.
Step 3
Pour in the beans and salt when the water reaches a boil. Turn off the heat, stir the beans once and let them sit.
Step 4
Leave the beans in the hot water for 1 hour before using them in a bean soup recipe.