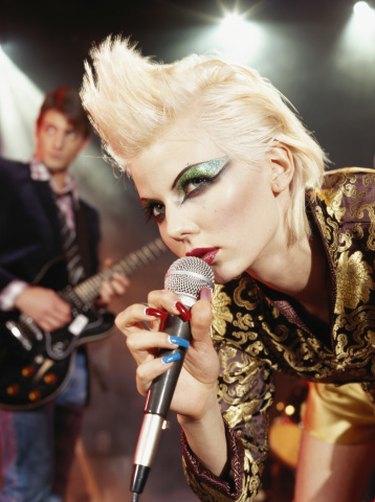 Whether you are preparing next year's Halloween costume or have an 80s-themed party to attend, you can dress like an 80s rock star by stocking up on accessories and adding some 80s iconic flair. The 80s were infamous for setting fashion trends that involved black clothing -- sometimes accented with neon colors -- distinct hairstyles and lots of makeup. If you want to dress as an 80s rock star, be prepared for a wild costume.
Black leggings or tight jeans
T-shirt
Leather, fringed vest or jacket
Long wig
Hairspray
Accessories
Makeup
Shoes
1. Put on a pair of black leggings
Put on a pair of black leggings. Leather leggings or tight leather pants are preferable to complete the look of the 80s rock star, but any type of black leggings will do. Eighties rockers also wore skin-tight, stonewashed jeans -- a look that was more popular with male rockers.
2. Cut the sleeves off a T-shirt
Cut the sleeves off a T-shirt. If you can find a T-shirt with an 80s rock band logo on it, this will make your outfit more realistic. However, you still can complete the rocker look with a plain white or black tee. Make sure the cut is made where the sleeves begin, so that your whole arm is exposed.
3. Wear a leather, fringed vest or jacket
Wear a leather, fringed vest or jacket over your T-shirt. Leave it open so that others can see your T-shirt beneath it. If you want to substitute black for leather, you can. Alternatively, some rockers wore tight, stonewashed denim jackets to match their tight jeans.
Get a long-haired wig if you do not have long hair. Tease it with hairspray until the wig -- or your hair -- is messy and sticky. For the guys, you might be more interested in looking for a mullet-cut wig, which you also should tease with hairspray. Hair should be worn down.
Add accessories to your outfit. Pile on the bangles or leather bracelets, layer the long necklaces around your neck and do not forget the oversized hoop earrings. Fingerless gloves also are appropriate for 80s rock-star costumes.
6. Apply bright, heavy makeup
Apply bright, heavy makeup. Exaggerate your eyes by putting on bright blue or bright purple eyeshadow, with heavy eyeliner on your top and bottom lids. Use a lot of rouge on your cheeks and make sure you have a bright red or pink lipstick. According to Marie Claire magazine, the 80s were all about bold colors.
7. Wear appropriate footwear
Wear high heels if you are dressing as a woman rocker. Boots and sneakers are appropriate footwear for the guys.