Things You'll Need
Deer shoulder

Paper towels

Dry rub

Plastic wrap

Woodchips

Large bowl

Smoker

Venison marinade

Small bowl

Basting brush

Meat thermometer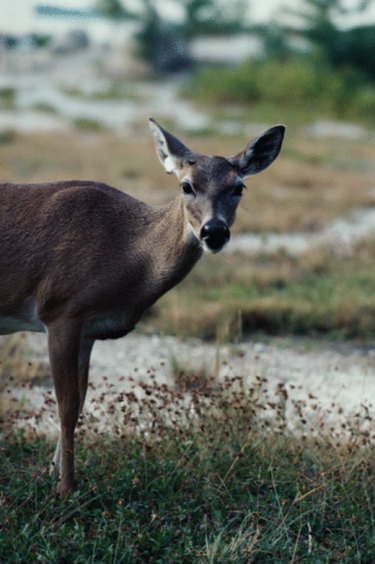 Venison, or deer, is a popular game meat favored by hunters. However, becayse they are so lean, they can often turn out dry or tough when cooking them. Long, slow cooking processes suit venison best, and smoking a cut is one of the best ways to not only add flavor, but also to keep it moist. Deer shoulder, in particular, is a tough cut of meat and can be cooked to perfection by smoke.
Step 1
Wash the outside of the meat thoroughly under running water.
Step 2
Pat the meat dry with a paper towel, make sure to reach into all the crevices.
Step 3
Cover the meat thoroughly with the dry rub. Place it on the counter, cover it with plastic wrap and allow it to come to room temperature.
Step 4
Place the wood chips in to the bowl, filling it three-quarters full, and cover them with water by at least 1 inch. Let it soak for one hour while the meat comes to room temperature.
Step 5
Place the soaked wood chips in the smoker's designated slot. Turn it on to 250 degrees F and allow it to fill with smoke for 10 minutes.
Step 6
Baste the roast thoroughly with the marinade and place it on the smoker.
Step 7
Cook the roast for five to seven hours, basting it every 30 minutes to ensure it stays moist, or until a thermometer inserted in to the deepest part of the meat reads 145 degrees F.
Step 8
Remove the shoulder and place it on the counter, covered with tinfoil, to rest for 20 minutes before serving.
Tip
If you are afraid of under cooking the meat, leave it on the smoker until the internal temperature reads 145 degrees F.
Injecting marinade in to the shoulder using a syringe before cooking can add both flavor and tenderness.
Warning
Always baste the roasting meat, as it can dry out easily.