Things You'll Need
Skillet

1 steak, your choice

Pastry brush

2 tbsp. canola oil

Meat thermometer

Cooling rack

Aluminum foil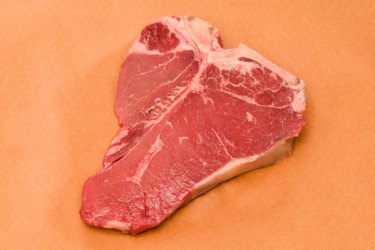 Steaks can be cooked to different levels according to the preferences of the eater. A rare steak is barely cooked and has a pink, bloody interior. A medium-rare steak has a pinkish center, but browned edges. Medium steaks have a slightly pink center but are mostly browned. Medium-well steaks are browned all the way through. Well done steaks are similar to medium well steaks, but are cooked until a deeper brown.
Step 1
Remove the steak from the refrigerator and allow it to sit out for 20 to 30 minutes and warm to room temperature.
Step 2
Place the skillet on the stove at medium-high heat. Prepare the steaks while the pan heats up. Use a pastry brush to apply 2 tbsp. canola oil to each side of the steak.
Step 3
Place the steak in the pan and check for a sizzle - if there isn't one, remove the steak and let the pan heat up further. Cook for five minutes, turn the steak, then cook the other side for another five minutes. Use a meat thermometer to check that the interior temperature is between 150 and 155 degrees F.
Step 4
Remove the steak from the pan and place on a cooling rack. Wrap the steak with aluminum foil and allow it to sit for 10 minutes. Unwrap the steak and serve warm.