Things You'll Need
6 cups buttermilk

3 tbsp. salt

5 tsp. chili powder

1 tsp. ground black pepper

Large bowl

Whisk

6 lb. chicken pieces

Plastic wrap

Mixing bowl

5 cups all-purpose flour

2 tbsp. garlic powder

2 tbsp. onion powder

1 tbsp. paprika

Shallow bowl

Wooden spoon

Paper towels

Peanut oil

Deep skillet

Metal tongs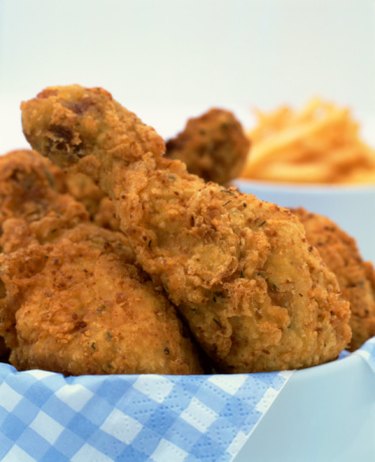 Fried chicken is made from pieces of meat coated in breading or batter and placed into hot oil to cook. An egg is typically used as a binding agent to hold the breading to the chicken's surface while frying. If you do not have an egg on hand, or if you are cooking for someone who is allergic, you can do without this ingredient. To bread fried chicken without an egg, allow for five hours of refrigeration time before you begin cooking the meal. This recipe is for 6 lb. of fried chicken.
Step 1
Combine 4 cups buttermilk, 2 tbsp. salt, the chili powder and pepper in a large bowl. Whisk to blend the ingredients and add the chicken pieces. Cover with a sheet of plastic wrap and refrigerate for five hours.
Step 2
Pour the remaining buttermilk in a mixing bowl. Combine the flour, remaining salt, garlic powder, onion powder and paprika in separate, shallow bowl. Stir the dry ingredients with a wooden spoon to blend.
Step 3
Drain the chicken and discard the liquid from the bowl. Pat the chicken pieces dry with paper towels.
Step 4
Submerge each chicken piece in the buttermilk and roll them in the dry ingredients. Set the breaded chicken aside.
Step 5
Pour 4 inches of peanut oil in a deep skillet. Set the skillet over medium-high heat. Allow it to heat for five minutes.
Step 6
Add three or four pieces of chicken to the skillet, turning occasionally with metal tongs. Allow the chicken to fry for approximately 20 minutes, or until the breading is golden brown and the meat's juices run clear when skewered with a knife.
Step 7
Set the cooked chicken on paper towels and repeat with the rest of the breaded meat. Serve immediately.
Tip
Reheat any refrigerated leftovers in an oven preheated to 375 degrees Fahrenheit for 30 minutes.