Things You'll Need
Linseed oil

1 quart pressure pot spray gun

180-grit sandpaper (optional)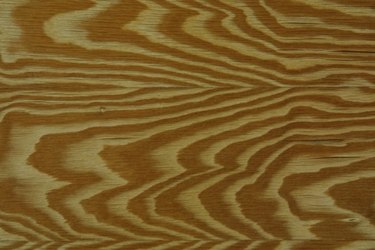 Plywood is tough but it still needs to be sealed, especially on the edges, to prevent moisture penetration when used outdoors. To properly seal plywood, penetrating oil can be used. Penetrating oil sinks deep into the pores of the wood where it hardens to protect the wood from the inside out. Linseed oil can be applied periodically with paint spraying equipment to keep protection viable for years to come.
Step 1
Fill the 1 quart spray-gun container with linseed oil.
Step 2
Spray the plywood liberally, saturating the plywood until it is completely wet. Spray all four edges. Spray any and all surfaces of the plywood that you can. If the plywood is loose, turn it over and spray the bottom. Wait one hour and spray it again. Wait one week.
Step 3
Spray the plywood again, liberally soaking it on any and all exposed surfaces.
Step 4
Spray the plywood once every six months after that to permanently protect it.
Tip
If you want to paint over the plywood, lightly sand it with 180-grit sandpaper after the second coat and then apply the paint as you normally would. Note that if you do paint it, subsequent coats of linseed oil will not work.
Warning
Even though linseed oil is non-toxic, you should use breathing protection if you are using it inside or in an area that is not well-ventilated.