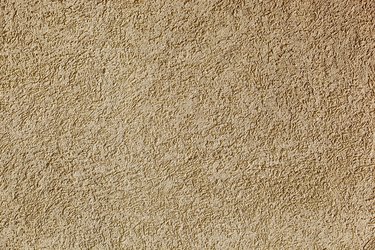 Stucco is a beautiful and stylish choice for walls and ceilings in homes, but it is also notoriously difficult to clean. Luckily, with the right spider web removal tool, cleaning cobwebs and other debris from stucco doesn't have to be a dreaded chore. There are many good ways to remove cobwebs from stucco in all areas of your home, including methods to prevent spider webs from getting on stucco in the first place.
Best Way to Clean Cobwebs From Stucco
The best way to clean cobwebs from stucco is to use your vacuum cleaner. The suction helps dislodge the sticky webs and the dirt and dust caught in them without leaving anything behind. First, attach your vacuum cleaner's circular dusting brush to the extension tube. In one corner of the room, vacuum the walls from top to bottom. You always want to start at the top because you will also capture any debris that falls as you work.
Move around the room or space, taking care to vacuum the walls in these vertical columns. You may need to detach the brush attachment to get into the corners if you find it's not working too well. If spider webs and dust have accumulated on other fixtures, such as furniture and artwork, use a dusting cloth or another less-abrasive cleaning method to remove that dust. Then, you can vacuum any excess.
Dust Webs on the Ceiling and Exterior of Your Home
It's certainly more challenging to remove cobwebs on your stucco ceiling or outside your house. You can use the vacuum method for ceilings under 10 feet or so. Work in straight lines and be sure to vacuum the ceiling before moving on to the walls. That way, you won't get the walls dirty again.
For higher ceilings, you may need to use a ladder. Always have someone assist you by steadying the ladder as you climb. The person may also help you control the vacuum cleaner as you work. In contrast, for how to remove cobwebs from the exterior of houses, the best method is to use a power washer. You can buy a power washer from any hardware store, and they are handy for tough cleaning jobs.
Alternatively, you can rent them from most hardware stores if you don't want to own one. The good thing about using a power washer to get cobwebs off stucco on the outside of your home is that the power washer will also remove other dirt and debris, leaving your exterior looking like it is new.
How to Prevent Stucco Spiders
One of the best methods to handle cobwebs on stucco is to repel spiders by keeping the walls clean. You can buy a commercial spider repellent and spray that in your home; these are available at most big-box retailers and hardware stores. Try to concentrate it near entrance points, like doorways and windows, where the spiders might be gaining access. Alternatively, you can hire an exterminator to treat your home for spiders; if you have a severe spider infestation, this is a good first choice.
A more straightforward and natural solution to try first is peppermint oil. Spiders do not like peppermint oil, and it also repels other pesky insects, such as mosquitoes. In a spray bottle, combine water with about 10 drops of peppermint essential oil. You should make sure you get one made from natural peppermint. Spray it generously anywhere you don't want to see spiders and webs; it will make your home smell fresh too.