Things You'll Need
Canister vacuum cleaner

Vacuum cleaner wand

Dry circular brush wand attachment

Dry rectangular floor sweep attachment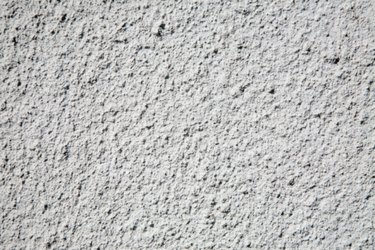 Usually just a nuisance, cobweb removal can become a real chore when you are dealing with stucco ceilings or walls. All the ridges in a stucco wall or ceiling provide more area for cobwebs to adhere to and the texture eliminates your ability to clean easily with a sponge or rag. Depending upon the age and density of the cobwebs, even "feather" dusters can be more of a detriment by pushing a collection of them deeper between the stucco ridges. Using a vacuum cleaning brush on the end of a length-adjustable wand is the only means of guaranteeing removal of the cobwebs and dust.
How to Clean Cobwebs From Stucco
Step 1
Attach the circular dusting brush attachment to the vacuum cleaner wand. Adjust wand to its longest length. Turn on the vacuum and point the brush attachment to the horizontal corner area between the ceiling and the top of the walls.
Step 2
As you move about the room, stop at each vertical corner and vacuum the corner from top to bottom. Resume the high ceiling work until the room has been circled entirely.
Step 3
With the wand still at its longest length, vacuum around any ceiling light fixtures or heating vents.
Step 4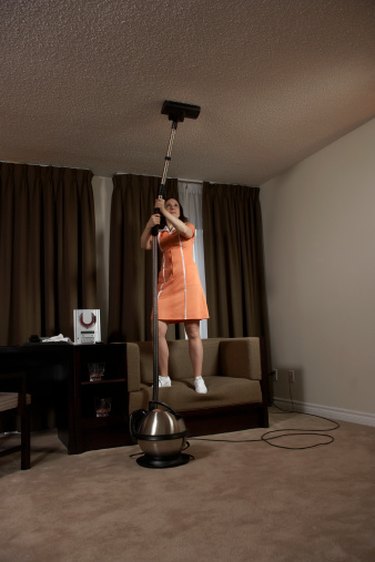 Replace the small circular brush with the larger rectangular brush and, if needed, vacuum cobwebs from larger spaces on the walls and ceilings.
Step 5
Remove the wand. Place the small circular vacuum attachment on the end of the vacuum hose and remove cobwebs and dust from the floor baseboards.
Tip
Always clean from top to bottom: begin at the ceiling level and work your way down to the baseboards and floor.
Warning
Be very careful using the long wand vacuum brush attachment if you use a stepladder. Never stretch beyond your ability to easily reach an area. Instead, dismount from and move the ladder to the adjacent area.