Things You'll Need
Roasting pan, with lid

1 tsp. seasoning salt

1 tsp. garlic powder

1 tsp. black pepper

1/4 tsp. ground sage

Bowl

Spoon

Melted butter

Meat thermometer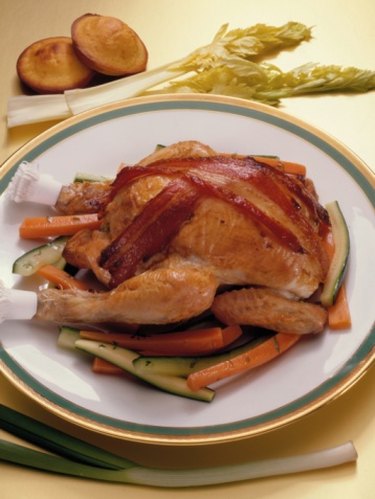 Cornish hens are small chickens usually sold weighing 1 1/2 to 1 3/4 lbs. Often frozen, the individually wrapped hens taste like and are prepared like the average chicken. While it's common to thaw poultry before cooking, it's not necessary as long as it is not cooked in the microwave or a slow cooker according to the U.S. Department of Agriculture Food Safety and Inspection Service. Roast frozen Cornish hens in the oven for an extra 1/2 hour.
Step 1
Pre-heat oven to 375 degrees Fahrenheit.
Step 2
Open the package and rinse the frozen Cornish hen under cold running water. Place the hen in a roasting pan.
Step 3
Mix together 1 tsp. seasoning salt. 1 tsp. garlic powder, 1 tsp. black pepper and 1/4 tsp. ground sage.
Step 4
Brush melted butter all over the Cornish hen. Rub the seasoning mixture into the body cavity and all over the hen's skin.
Step 5
Put the lid on the roasting pan and place the pan in the oven. Cook the hen for about 1 hour 10 minutes or until a meat thermometer inserted in the hen's thigh reads 170 to 175 degrees Fahrenheit.
Tip
Put bacon on the Cornish hen's breast for added flavor.