Things You'll Need
3 tbsp. olive oil

Small bowl

1 cup cornmeal

1 cup all-purpose flour

1 tbsp. ground black pepper

1 tbsp. salt

Shallow pan

Spoon

4 tbsp. butter

Skillet

Meat thermometer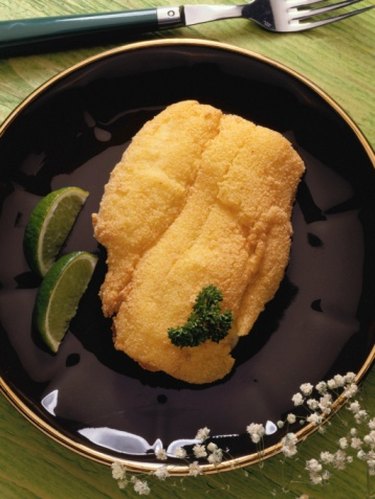 Sand bass are not only easy to catch, they are also delicious on your plate. The sand bass, or white bass, is a carnivorous freshwater fish that grows up to 16 inches in length. When sand bass are not frightened, they take live bait quickly, making them easy to catch for the novice angler. Though the sand bass has slightly oily flesh, if prepared correctly its meat is flavorful and firm. Cooking cleaned sand bass fillets is quick, easy, and remarkably tasty.
Step 1
Pour the olive oil into a bowl big enough to hold one of your fillets.
Step 2
Combine cornmeal, flour, pepper and salt in a shallow pan, such as a pie pan, or on a large plate. Stir the mixture with a spoon to blend it. This will be your breading, and you want it to be well incorporated.
Step 3
Coat each side of a sand bass fillet in the olive oil, then roll it the breading mixture. Set the coated fillets to the side.
Step 4
Melt the butter in a skillet over medium heat. Place the sand bass fillets into the preheated pan and fry for eight minutes per inch of thickness on each side. The fish is done cooking when a thermometer stuck into the thickest part reads 145 degrees Fahrenheit.
Step 5
Remove the sand bass from the pan and allow the fillets to cool for five minutes before serving.
Tip
Use skinless, boneless sand bass fillets for best results.
The bass can be cooked with skin on one side. This helps the fist retain moisture, but changes the overall flavor.
Experiment with adding different herbs to the breading mixture for a more gourmet result.