Things You'll Need
Whipped Cream:

Bowl

1 cup whipping cream

1/2 cup confectioner's sugar

1 1/2 tsp. vanilla extract

Hand mixer

Whipped Cream Frosting:

Mixing bowl

1/2 cup whipping cream

1/2 tbsp. granulated sugar

1/4 tsp. pure vanilla

Spoon

Plastic wrap

Wire whisk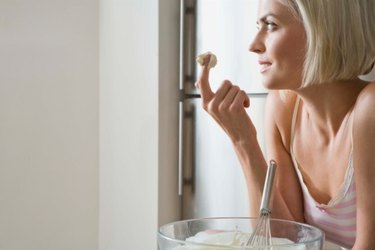 Heavy cream gets its name from the amount of fat it contains. A cream is considered heavy if it contains at least 36 percent fat. Whipping cream can be substituted in place of heavy cream for making icing or whipped cream. However, whipping cream can have anywhere from 30 to 36 percent fat. The fat content will determine how firm the whipped cream or frosting will be. Fortunately, whipped cream and whipped frosting only require 30 percent fat, which makes whipping cream a good substitute. Substitute equal parts whipping cream for heavy cream.
Whipped Cream
Step 1
Add the cream, sour cream, sugar and vanilla to the mixing bowl.
Step 2
Use the hand mixer to whip the ingredients together.
Step 3
Stop whipping when stiff peaks form when you lift the mixer out of the bowl. You also will want all of the sugar granules to be gone so the whipped cream is not grainy.
Step 4
Place the bowl in the refrigerator until you need it. It is best if used within one day of being made. The recipes makes about 3 cups of whipping cream.
Whipped Cream Frosting
Step 1
Add the whipping cream, vanilla and sugar to the mixing bowl. Stir until just combined.
Step 2
Cover the bowl with plastic wrap.
Step 3
Put the wire whisk and bowl in the refrigerator for half an hour. This will lower the temperature so that when you whip the ingredients they do not get too warm, which can ruin the end product.
Step 4
Remove the bowl and whisk from the refrigerator.
Step 5
Whisk the ingredients together. Lift your whisk from the mixture, if the peaks are stiff, the frosting is done. Stiff peaks do not fall over as you lift the whisk. This recipe makes about 1 cup of frosting.
Tip
If you prefer your whipped cream to be a little more tangy than sweet, you can add 1 cup of sour cream to the recipe.
For sweeter whipped cream or frosting, add more sugar. However, remember to beat well to get rid of all of the granules.