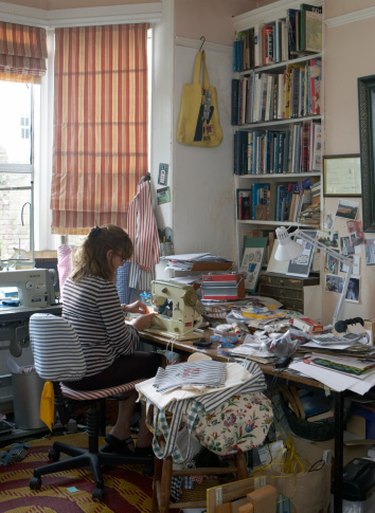 Elastic stretches with age and wear. An elastic waistband can become too large even if the wearer remains the same size. Taking in a waistband only takes a few minutes and will make the garment fit and feel better. You can never be comfortable when it feels as if your pants might fall down. If you have lost weight, you can fix all your casual pants and shorts in an hour or so.
Things You'll Need
Seam ripper

Scissors

Pin

Sewing machine

Matching thread
Step 1
Use a seam ripper to take out 3 inches of the casing seam.
Step 2
Pull out the elastic and pin a 1-inch loop in it to tighten it.
Step 3
Try on the garment to check the fit and change the size of the loop until you are pleased with the fit.
Step 4
Cut the elastic and overlap it, keeping the pin in the same place. Be sure the elastic is not twisted. Cut off all but 1/2 inch of the overlap.
Step 5
Stitch the elastic together by sewing a machine zigzag stitch along each end of the elastic overlap.
Step 6
Resew the open casing seam and distribute the gathers around the waist evenly.