Things You'll Need
Sequin fabric

Straight pins

Pattern pieces, if using

Scissors

Thread

Denim-sewing needles

Sewing machine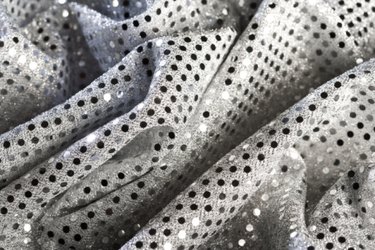 Sewing sequin fabric isn't as simple as stitching on cotton or even silk. Sequins are typically made of plastic and are considerably thicker than fabric, so you will need a very sharp and very heavy needle to stitch through them. The sharper the needle, the easier your sewing will be, so have spare needles ready. You'll also need a sharp pair of scissors. Don't use your good dressmaking shears to cut the sequin fabric, though, as you do not want to damage them.
Step 1
Position the sequin fabric on a flat surface so that when you run your hand down the fabric, your hand glides over the sequins, instead of catching on their ends.
Step 2
Turn the fabric over so the wrong side is facing you. Pin the pattern pieces to the fabric, if using a pattern. Cut out the fabric around the pattern, adding 1/8 inch all around.
Step 3
Thread your sewing machine with the denim needle or other heavy-duty needle. Adjust the stitch length on your machine so that you'll get about 10 stitches per inch. The longer stitch length will make the seams stronger.
Step 4
Remove any sequins from the seams of the fabric before sewing, especially if you are sewing a wearable item.
Step 5
Sew the fabric using a straight stitch.
Step 6
Use your fingers to press open any seams on the fabric. Don't use an iron, as the heat can damage the fabric.
Tip
Do not wash the sequin fabric before sewing, as doing so will damage it.