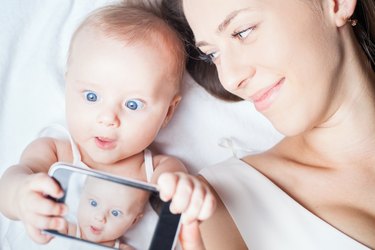 A childhood photo guessing game is a classic party game for good reason. It's fun to see your friends or coworkers as adorable little squashy-faced babies, and this is a really simple game to put together. Playing the baby picture guessing game at work can be a fun activity during a company party, or as part of a workplace baby shower for a coworker who's expecting. It's also a fun, appropriate and easy game for any group, and you don't have to worry about providing complex baby picture guessing game instructions: This game is pretty self-explanatory, once it's set up.
Preparing for a Baby Picture Guessing Game
There are plenty of fun baby shower games you can pull together at the last minute, but a childhood photo guessing game isn't one of them. Obviously, you're going to need baby photos from everyone who wants to participate, and they might need some time to locate a good photo. If you're sending out invitations for your event, include a call for photos on the invitation. Or send an email to the guest list at least a few weeks before the party.
Provide some guidance to help people choose the right pictures. Should they only use a photo where they're younger than a year old, or are toddler photos okay? Do you want people to email you scanned images, and you'll print them all out? If so, give a deadline so you can collect all the images in time to get prints. Or do you want people to bring their own physical photos with them to the party, which will require you to do some game setup during the event itself?
Have a plan to display the photos. Hang a string garland on a wall at eye level and use clips to hang photos from the garland, or set them up on small easels or tack them to a cork board. (Only make holes in photos if they're prints you had made yourself.) Each photo also needs to have a number displayed near it, and you'll need to make a list for yourself with the correct name for each photo. You'll also need to provide answer sheets and writing utensils so players can write down their guesses.
Baby Picture Guessing Game Instructions
Once the setup is taken care of, this game is really easy to run. You probably won't even have to give many baby picture guessing game instructions since many people have played this at other baby showers. The most important step is to provide a list of everyone who's participating in the game so players know what their choices are. Print this list on your answer sheets, or just jot down a list during the event and hang it near the displayed photos.
At the beginning of the party, announce a time by which everyone needs to turn in their answer sheets. Give guests plenty of time to examine and laugh over all the pictures. (If you're playing the baby picture guessing game at work, you might even display the photos in the break room and give people a full day to go in and examine them before finalizing their guesses.)
When time is up and you've collected the answer sheets, compare them to your list of the right answers and total up the scores. Get everyone's attention and have everyone say which photo was theirs, then announce the winner with the highest score. Be prepared for ties by having a few prizes on hand, like candles and bags of chocolate candies. If you're playing the baby picture guessing game at work, give out company swag or gift cards to a coffee shop or restaurant nearby.
It's possible, and even relatively easy, to hold a childhood photo guessing game during a virtual event. You don't have to worry about printing up people's photos this way. Have everyone email you a photo in advance and put them together in a single slide or as a slideshow. Share your screen so everyone can see the photos. Have them email you their answers in real time if you want to award and send prizes, or make the game just for fun and have everyone guess the identity of each baby as a group.
If for some reason people aren't willing or able to send in their own baby photos, you can also create a version of this game using celebrity baby photos. Don't provide a list of celebs whose photos you've chosen to make this game challenging.