Things You'll Need
Cooking pot

Large metal bowl

Whisk

1 cup sugar

1/4 cup flour

1 tsp. salt

3 egg yolks

2 cups milk

1/2 tsp. vanilla extract

1/4 tsp. banana extract (optional)

5 bananas, peeled and sliced

36 vanilla wafer cookies

2 qt. baking dish

2 cups whipped cream or whipped topping (optional)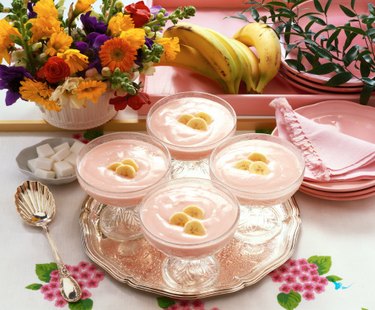 Instant pudding mix cannot match the flavor of real banana pudding made with a homemade custard in a double boiler on the stove. A double boiler is a cooking vessel with two components. The bottom holds boiling water while you put the ingredients for cooking in the top. Since the ingredients are not in direct contact with the heat source from the stove, they are less likely to burn or curdle. When making the cooked pudding base for homemade banana pudding, slow even heating is crucial to keep the mixture from scorching, but you can replicate a double boiler for making banana pudding with items already in your kitchen.
Step 1
Fill a cooking pot halfway with water and bring to a simmer over medium heat.
Step 2
Place the metal bowl on top of the cooking pot without the bottom of the bowl touching the simmering water inside the pot. This bowl and pot arrangement is a homemade version of a double boiler.
Step 3
Whisk together the sugar, flour, salt and egg yolks in the bowl.
Step 4
Stir in the milk and cook the pudding mixture in the bowl for 15 to 20 minutes or until thick enough to coat the back of a spoon. Stir the mixture occasionally during cooking.
Step 5
Remove the bowl from the cooking pot with simmering water and add the vanilla and optional banana extract to the pudding mixture.
Step 6
Cool the pudding to room temperature.
Step 7
Cover the bottom of the baking dish with one third of the pudding.
Step 8
Top the pudding with one third of the sliced bananas and a layer of 12 vanilla cookies.
Step 9
Repeat the layers two more times, ending with a top layer of 12 vanilla cookies.
Step 10
Top the banana pudding with whipped cream, if desired.
Step 11
Chill the pudding in the refrigerator for at least two hours before serving or serve at room temperature.