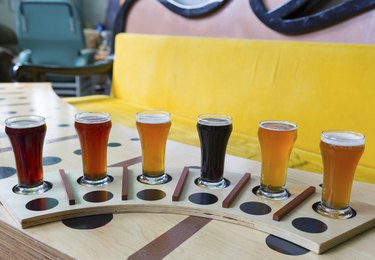 Beer festivals are in vogue these days, and the events are a fine way for a nonprofit organization to earn money for a worthy cause or for a business to introduce a new craft beer. Often, communities hold beer festivals to attract visitors to quality area breweries. Summertime is prime time for outdoor beer festivals, but winter festivals are just as much fun. Whatever the size or purpose, a safe, well-run beer festival requires hard work and careful planning.
Legalities
All states regulate the sale of alcohol, although specific licensing requirements may vary. Often, a temporary special event license is required. Licensing agencies may also limit the size of the servings or the number of samples that can be provided. Food is generally served along with beer, and most state liquor licensing agencies require at least two or three substantial foods, such as pizza, hot dogs, chicken or sandwiches. A temporary food service permit is usually required. Insurance is also critical, and comprehensive event coverage is offered by most insurance providers. If other organizations participate in the event, they must also be covered by insurance.
Scheduling
Allow at least six to eight weeks for planning a beer festival. Look at a community events calendar and schedule the festival on a date that doesn't conflict with other large, established events. Holidays often work well because people are out and about, looking for fun things to see and do. Decide on the time span; although festivals can span several days, they are often one-day or weekend events.
Choose a Venue
The venue is largely determined by the number of guests you expect. Consider starting with a small festival, then expand the event year by year as you gain knowledge, confidence and a positive word-of-mouth reputation. The venue should be easily accessible, and it must have enough bathrooms. You may need to rent portable restrooms for an outdoor event. An outdoor event also requires a backup plan to provide shelter in case of rain.
Considerations
Beer festivals are often free and money comes from selling beverages. If you want to charge for the event, you can sell tickets at the door or in advance. Also, determine if the festival will be an adult-only event or a day for families. If families are welcome, consider activities for children, such as face painting, games or a bouncy house. Beer festivals often feature live music and the musicians' rates should be factored into event costs. Make a list of things you'll need at the beer festival, such as chairs and tables, tents, serving counters, signage and garbage cans. Security is essential and may be provided by volunteers or a security company. If you decide to use volunteers, arrange for them ahead of time and provide adequate training. You can incorporate a chili cook-off or barbecue into your activities, which generates more income for the event. Otherwise, consider inviting nonprofit organizations to sell food at the festival.
Marketing
The local paper is a good place to start advertising the beer festival, and most papers offer free space for upcoming events. Post the event on social media pages. Distribute fliers or posters and hang a banner at the venue site. Offering free tickets to local radio stations is often a good way to get low-cost or free advertising. Often, local businesses are willing to sponsor the event, which helps with promotion and decreases expenses.