Things You'll Need
Printer or colored ink pens

Card stock

Scissors or paper cutter

Jumbo 6-inch craft sticks

White tacky craft glue or stapler and staples

1/4-inch-wide satin ribbon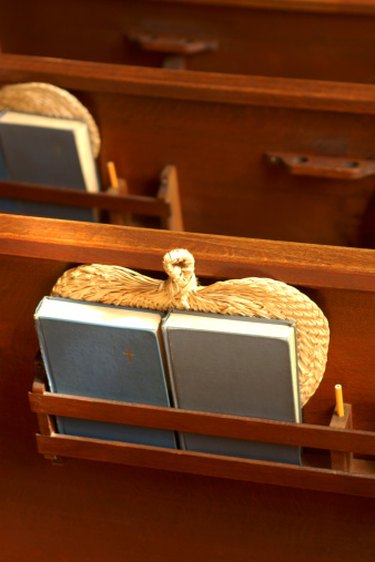 Hand fans are a welcome addition to a church bulletin on a hot summer Sunday. The handheld fans are used during a church service or wedding ceremony to create a slight breeze for personal comfort. Your ladies' Bible study group, Sunday school class or Vacation Bible School crafters can make a batch of fans to pass out to church members. The card-stock fans are a nice, yet inexpensive promotional piece to be given out at community events or church celebrations.
Step 1
Print a photo of the church, a Bible, scenery or a painting of Christ onto light-colored or white card stock. Print line drawings to encourage children to decorate with colored ink pens for a VBS or Sunday school craft. Print Bible verses, quotes of encouragement or the church faith statement on the opposite side of the card stock. Print photos of flowers, the couple or the wedding program onto fans used for a wedding ceremony.
Step 2
Cut each piece of card stock in a square, fan, heart or round shape with scissors or a paper cutter.
Step 3
Glue a craft stick to the back of each fan for a handle. Set the fans aside to dry thoroughly. You can also use a stapler and staples to secure the card stock to the craft stick.
Step 4
Tie a small white satin bow to the handle of the fans for a wedding decoration.
Warning
Regular paper will be too thin to make a lasting hand fan for church.