Things You'll Need
Cookie sheet

Oven spray

Corn meal

Flour

Rolling pin

Oven

Oven mitts

Pizza sauce

Spoon

Shredded mozzarella

Pizza toppings

Knife or pizza cutter
When it comes to making homemade pizza, many people agree that the best method is using a pizza stone. If you're a pizza-making beginner and haven't bought a stone, you can still make a flavorful pizza using your oven and a cookie sheet. Pizza baked on a cookie sheet is somewhat crisp with a thicker crust, much like custom deep dish pizzas that are made in pizza restaurants.
Step 1
Spray a cookie sheet with cooking spray. Spread a handful of corn meal over the entire surface of the cookie sheet.
Step 2
Sprinkle flour over the counter or a table. Place a ball of dough in the center of the flour. Roll or stretch the dough until it is approximately the same size and shape as the cookie sheet.
Step 3
Pick up the dough and place it in the cookie sheet. Don't worry if the dough stretches when you pick it up; the dough will go back into shape in the pan. Push and manipulate the dough until it perfectly fits the interior of the pan.
Step 4
Put the pan into a preheated oven that has been set at 400 degrees Fahrenheit. Allow the dough to cook for six minutes. Precooking the dough will make a crispier crust in the final pizza.
Step 5
Remove the pan from the oven and set it on the counter. Spread pizza sauce over the surface of the dough. Stop spreading when you reach 1/2 inch from the edge of the dough. This will be the outer crust of the pizza.
Step 6
Sprinkle an even layer of shredded mozzarella cheese over the sauce. The amount of cheese depends on your personal taste.
Step 7
Add pizza toppings on top of the cheese. What goes on your pizza depends on what you and your family like. Cut all the toppings a similar size and place them in an even layer over the surface of the pizza.
Step 8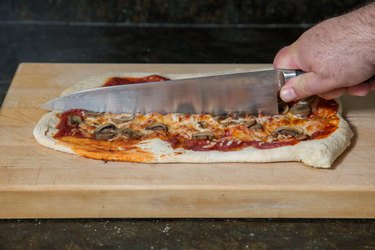 Place the pizza back in the oven. Bake the pizza for about 15 minutes, or until the crust is a deep golden brown and the cheese is melted and bubbling. Remove the pizza from the oven. Allow it to cool for about five minutes, then cut it into squares.