Things You'll Need
Red construction paper

White construction paper

Pencil

Scissors

Tape

Stapler

Glue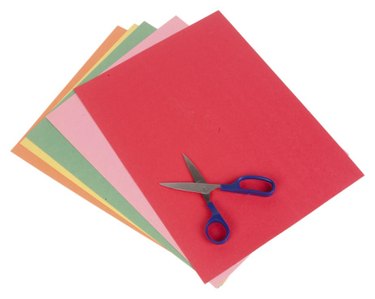 The Cat in the Hat, written by Dr. Suess, is one of the most famous children's books. The story centers around a tall, mischievous cat who wears a large red-and-white-striped hat and a red bow tie, carries an umbrella, and gets into trouble with the two children in the story. The Cat in the Hat is a favorite among all ages and the cat character can be used as inspiration for a costume for a variety of occasions, such as children's birthday parties or Halloween parties. The hat itself is quite easy to make and can be a fun craft project for children to work on while reading the book.
How to make a "Cat in the Hat" hat
Step 1
Cut a piece of white construction paper lengthwise into strips approximately one inch thick. Glue or tape the white strips lengthwise onto the piece of red construction paper leaving red spaces in between the white strips, in the pattern of the stripes on a flag.
Step 2
Form the paper into a round tube, using tape, glue or a stapler to attach the ends together. This tube is the upper part of the hat. If you wish to make a wider tube, use two pieces of red construction paper taped together on the ends to make a longer piece of paper. Use another sheet of white paper to cut more white strips. Once you've glued the white strips to the red paper, form it into a tube by following the previous step.
Step 3
Using the paper tube, trace a circle in the middle of a piece of white paper. Then draw another circle approximately 3 inches from the outside of the smaller circle. Draw four tabs on the inside of the smaller, inner circle.
Step 4
Cut around the outside of the larger circle, and on the inside of the smaller circle with the tabs. Attach the tabs to the inside of the bottom of your paper tube using tape or glue. This will form the hat brim. Voila! Your "Cat in the Hat" masterpiece is now complete.