Things You'll Need
Broom

Bucket

Water

White vinegar

Mop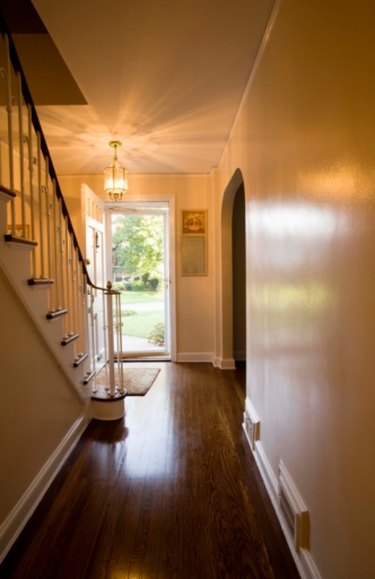 Hardwood floors are costly and should be maintained properly. To protect the flooring, a clear polyurethane coating is often added to seal the flooring. This reduces wear and tear and also adds a protective barrier that prevents water and moisture from seeping into the wood. Before applying the coat of polyurethane, clean the floors with a safe cleaning solution that cleans thoroughly without leaving behind residue.
Step 1
Sweep the floors with a broom to remove all loose buildup and debris.
Step 2
Mix 1 cup white vinegar with 1 gallon warm water in a bucket.
Step 3
Dip the mop into the bucket, wring the mop out and wipe across the wood floors. Follow the natural direction if the hardwood grain while you clean.
Step 4
Let the hardwood air dry entirely before applying the polyurethane.