Things You'll Need
1/2 lb. Genoa salami

Cutting board

Chef's knife

1 tbsp. olive oil

12-inch skillet

Wooden Spoon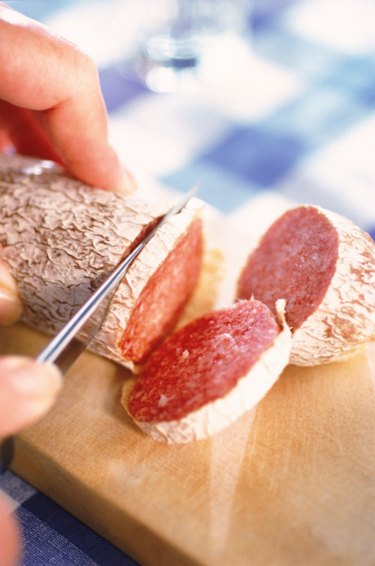 Salami falls under the category of a cooked sausage, according to the USDA Food Safety Inspection Service. Although salami meat does not require cooking to prepare it for eating, salami can be cooked enough to warm it when you wish to add it to a hot dish or sandwich. The cooking process will not take long, just enough time to slightly brown the salami. It will also bring out the juices of an otherwise often dry meat.
Step 1
Slice the salami into 1/4-inch slices. Cut each slice into smaller pieces, if you wish.
Step 2
Pour the olive oil into the skillet and place the skillet on the stove top. Heat the oil over medium-high heat for about one minute.
Step 3
Add the salami to the skillet and stir well with the wooden spoon.
Step 4
Cook the salami in the olive oil for about three to four minutes.
Step 5
Remove the skillet from the burner when the edges of the salami look slightly browned.
Tip
Serve the cooked salami over pasta or add it to a recipe.