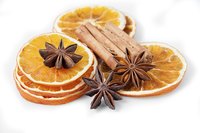 Drying fruit for your own consumption is still an enjoyable pastime, even if it's no longer the wintertime survival skill that it once was. When you prepare your own, you have the luxury of knowing exactly what you're eating. You can also look beyond the obvious and dry an interesting selection of less-common fruits. For example, orange slices, which are seldom available commercially, are easily dehydrated at home.
The Start of Something Good
Start by picking out small to mid-sized oranges with good flavor and color. If possible, buy and taste individual oranges to get a feel for their flavor before you invest in a large quantity. Wash the oranges scrupulously under cold, running water to remove any dirt or residue before you cut into them. You'll need a sharp knife or a good mandoline slicer to make neat, clean rounds, ideally 1/4 inch thick. Work slowly and meticulously; the more evenly they're sliced, the more evenly they'll dry.
It's a Dry Heat
If you own a dehydrator, the rest of the process is easy. Arrange the slices evenly on your dehydrator's trays, leaving lots of room for the air to circulate between them. If your dehydrator has adjustable heat settings, use the lowest -- typically around 125 degrees Fahrenheit -- to maintain the oranges' fresh color. The slices should be dry and brittle when you're done, unlike most dried fruits. This can take as few as 2 hours or as long as 12, depending on your dehydrator and other factors such as the ambient level of humidity where you live.
Clean Sheets
If you don't own a dehydrator, you can still successfully dry orange slices, though it's a bit more work. Space the slices evenly on parchment-lined baking sheets, using as many as you can fit on your oven's racks. Arrange the racks in the upper and lower thirds of your oven, and load them with the sheets of orange slices. Set your oven for the lowest temperature it can manage, ideally at 140 F or less, as used by dehydrators. If it goes no lower than 150 F or more, turn your oven on and off at half-hour intervals. Turn the orange slices periodically until they're completely dry, which can take just as long as in the dehydrator, 2 to 12 hours.
It's Been a Slice
Once the dried slices are completely cool, you can pack them into airtight bags or containers for storage. The slices have a number of uses. Use them to flavor teas and punches, add them to sauces and marinades, or pulverize them in your spice grinder and use them as a flavoring on poultry, fish or baked goods. They're also valued by crafters and home decor mavens. When dried at low temperature, orange and other citrus slices develop a translucent "stained glass" appearance that makes them an attractive decorative element in holiday displays or on Christmas trees.