Things You'll Need
Colander

Water

Bowl

Pot and lid

Measuring cup

1 diced onion

1 smoked turkey wing

1 ham hock

Spoon

Salt

Pepper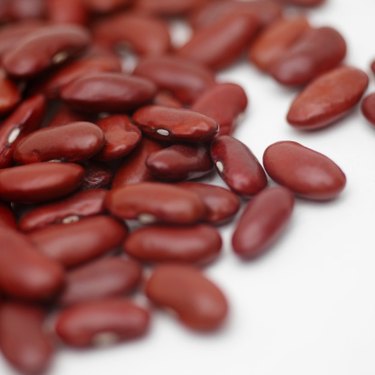 Red beans, also known as kidney beans, are inexpensive legumes with a meaty texture and a kidney shape. They are often used to make dishes that are simmered like chili and red beans and rice because, when simmered, the beans absorb seasonings and the flavor of other foods. Red beans are a source of high fiber, folate and magnesium. While there is no difference in taste, dried beans cost less than hydrated beans. One of the most basic of ways to prepare red beans is to cook them on the stove top with meat.
Step 1
Pour a bag of dried kidney beans in a colander. Search through the beans and remove any pebbles.
Step 2
Rinse the beans under cold water to remove dirt. Dump the beans into a bowl.
Step 3
Fill a pot with water and bring the water to boil. You will need 3 cups water to every 1 cup of dried beans.
Step 4
Pour the boiling water into the bean filled bowl until it stands 2 inches higher than the beans. Cover the bowl and let the beans set in the hot water for at least one hour or until they have doubled in size.
Step 5
Drain the beans and rinse with cold water.
Step 6
Pour the soaked beans into a large pot and add cold water until the beans are covered by 2 inches. You will need 3 cups water to every 1 cup kidney beans.
Step 7
Add one small diced onion and a smoked turkey wing or ham hock to the pot.
Step 8
Place the pot on the stove top and turn the heat to high until the mixture is boiling. If a foam builds on top of the beans, skim it off.
Step 9
Stir the beans and adjust the heat to low. Cover the pot and allow the beans to simmer for about 1 1/2 hours or until they are tender.
Step 10
Season to taste with salt and pepper.
Warning
Salt will prevent the beans from softening. Do not add it until the beans are tender.