Things You'll Need
1 tbsp. salt

1 tsp. paprika

1 tsp. garlic powder

1 tsp. ground black pepper

1 tsp. dried thyme

Small bowl

2 lbs. of 1-inch thick sirloin steak

Skillet

1/2 tsp. olive oil

Meat thermometer

Sharp knife

8 flour or corn tortillas

Chunky tomato salsa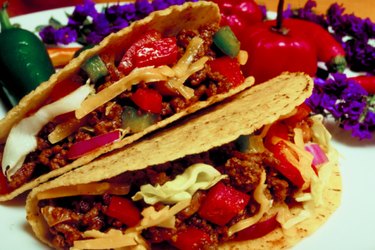 Tacos are a simple, fun treat to serve for lunch or dinner at any time of the year. Any type of meat can be used in tacos, including sirloin steak. Sirloin steak tacos use thin, tender slices of meat combined with a thick salsa to accentuate its flavor. All you need is some basic seasonings for the steak and approximately 15 minutes of preparation and cook time. A basic sirloin steak taco recipe yields eight servings.
Step 1
Combine 1 tbsp. salt, 1 tsp. paprika, 1 tsp. garlic powder, 1 tsp. ground black pepper and 1 tsp. dried thyme in a small bowl. Stir with your fingers to combine evenly before rubbing on both sides of the sirloin steaks. Let the steaks set at room temperature for 30 minutes.
Step 2
Preheat a skillet over high on a stove top for four minutes. Add 1/2 tsp. olive oil to the skillet and tilt to cover its entire surface.
Step 3
Sear the steaks for three minutes per side in the skillet. Test the steaks' internal temperature with a meat thermometer. If the temperature does not read at least 135 degrees Fahrenheit, continue to cook evenly on each side until it does.
Step 4
Remove the steaks from the skillet and allow them to set for five minutes. Slice the steaks into 24 thin strips.
Step 5
Serve three steak strips and 1 to 2 tbsp. of chunky tomato salsa on a flour or corn tortilla.
Tip
Add lettuce, tomatoes, onions, hot sauce or any of your favorite taco ingredients to make this recipe your own.