Things You'll Need
Styrofoam cooler

Cardboard box

Rubber kitchen gloves

Dry ice

Packing tape

Newspaper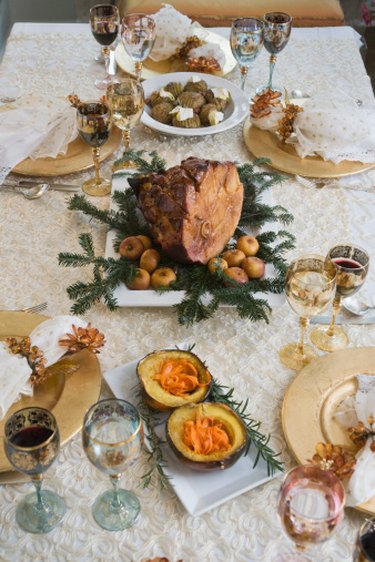 Advanced transportation and shipping services allow you to send perishables like frozen meat across state lines with the assurance that they will arrive intact. Whether you need to send a Christmas ham, a savory rosemary encrusted leg of lamb or a care package to a starving college student, your intended recipient can enjoy every tasty morsel without the risk of food poisoning or the disappointment of inedible, spoiled shoe leather. Proper packaging and the right choice of shipping methods are key factors for success, along with precise timing.
Get Packing Materials
Step 1
Weigh the meat that you are shipping. You need this information in order to purchase enough dry ice for safe shipment.
Step 2
Buy a sturdy Styrofoam cooler with a lid. It needs to be large enough to hold your meat and the dry ice.
Step 3
Get a sturdy cardboard box, from a moving company or any shipping vendor, that is larger than your cooler .
Step 4
Use the weight of your meat and the expected transit time to calculate the amount of dry ice you need. A 5-lb. roast needs 18 lbs. of dry ice for a two-day trip. A 10-lb. package needs 24 lbs. for the same trip.
Step 5
Buy dry ice from a retailer. Large grocery stores in metropolitan areas normally have a cooler near customer service.
Pack and Ship
Step 1
Wrap your frozen meat in two or more layers of plastic wrap, and then wrap the meat with several layers of newspaper.
Step 2
Wrap the dry ice with several layers of newspaper and lay it flat in the bottom of your cooler.
Step 3
Place the meat package on top of the dry ice. Fill empty space in the cooler with crumpled newspaper or plastic grocery bags.
Step 4
Put the lid on the cooler and tape it shut with packing tape.
Step 5
Place the cooler in the cardboard box and fill empty space with packing peanuts, newspaper or air bags to keep the cooler from shifting in the box.
Step 6
Tape the box shut with packing tape. Reinforce the bottom and the corners well by applying extra tape.
Step 7
Write "Perishable" on the box and fill out the shipper and receiving address information with indelible ink or a permanent marker.
Step 8
Take your package to the U.S. Post Office or a package shipping service that has expedited delivery. Tell the clerk that the box contains dry ice and complete any forms required for your shipment.
Tip
Look for dry ice vendors in industrial areas if nearby stores do not carry it. Insure safe delivery by using more than the minimum amount of dry ice. Add 8 extra lbs. for an additional 24 hours transit time for 5 lbs. of meat and 14 extra lbs. for a 10-lb. package. Ship perishable food early in the week so your package does not sit around on a loading dock during the weekend. Take your package to the delivery service early in the day so it does not miss the last vehicle or shipping cutoff for the day.
Warning
Never handle dry ice with your bare hands. Wear rubber or work gloves.
Tell your recipient when to expect your package so they can arrange to receive it or direct it to a neighbor.