Things You'll Need
Fabric

Single prong, alligator-teeth metal hair clip

Scissors

Hot glue gun

Cotton swab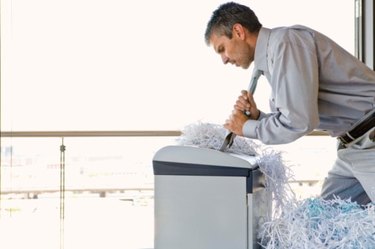 Nearly every man at some point in his life has ruined or stained a good tie by having it dangle into a greasy dish of food or get caught in a machine, unbeknownst to himself. A tie clip or clasp consists of metal you attach to your tie as well as a sliver of the shirt beneath your tie in order to keep the tie firmly stationary against the front of the shirt. You don't have to rely on the run of the mill tie clips that the average boutique sells. Instead you can make your own for a fraction of the price.
Step 1
Select a piece of fabric that matches or contrasts one or all of the colors in your tie. Lay this piece of fabric over the front bar of the metal hair clip. Wrap the fabric around this bar tautly, so that you completely conceal the front bar.
Step 2
Trim the fabric around the front bar so it is the exact same dimensions as this part of the hair clip. Trim any loose threads or uneven bits of the fabric.
Step 3
Lay your hair clip in front of you, turning it so the front side is facing you. Using a hot glue gun, dot several dabs off glue onto the front bar of the hair clip, spacing them evenly apart.
Step 4
Press your trimmed piece of fabric over the front prong of the hair clip. Adjust it so it covers this prong completely. Smooth out any wrinkles and wipe away any oozing bits of glue with a cotton swab. Allow it to dry for several hours.
Tip
You can purchase these single prong, alligator-teeth metal hair clips at professional beauty supply stores. If they don't have alligator teeth, they won't hang on to the fabric of your tie.
You don't have to cover your tie clip with fabric: you can use buttons, beads or even sequins: any decorative items you like.