Things You'll Need
Shop broom

Orbital sander, 80-grit sanding pad

Vacuum

Deck cleaner

Scrub brush

Semi-transparent stain

Stain brush

Clean rags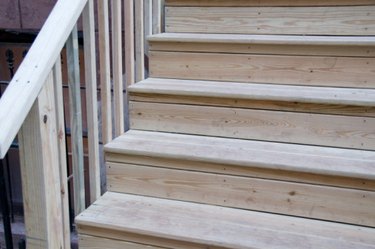 Outdoor wooden steps are exposed to harsh weather conditions year round and must be treated in order to maintain their structural integrity and beauty. Penetrating finishes, such as semi-transparent stains, are a durable and attractive way to treat your wooden steps. The finish will protect the wood from water damage and allow you to select a variety of colors. In order to treat your wooden steps, they must be clean and free of rough areas.
Step 1
Sweep off the steps with a shop broom to clean off any dirt or other debris from the surface.
Step 2
Sand the surface of the wood with an orbital sander using an 80-grit sanding pad until the surface is smooth.
Step 3
Vacuum up the dust left from sanding using a shop vacuum. It is important to have a clean, dust-free surface to apply the finish.
Step 4
Wash the steps with a deck cleaner using a scrub brush to remove any dirty or stained areas of the wood. Allow the steps to dry for approximately 48 hours or until completely dry.
Step 5
Apply a liberal coat of semi-transparent stain with a stain brush. Brush the stain onto the steps in the same direction as the wood grain. Allow the stain to penetrate the wood for approximately 30 minutes.
Step 6
Wipe off any excess stain that has not penetrated the steps using clean cloth rags. Allow the finish to dry for 72 hours before use.
Tip
Select a stain color that matches or complements the other exterior colors of your home.
Warning
Wear eye protection when sanding wood.