Things You'll Need
Sheet of black, letter-sized poster card (8-1/2-by-11 inches)

White paint marker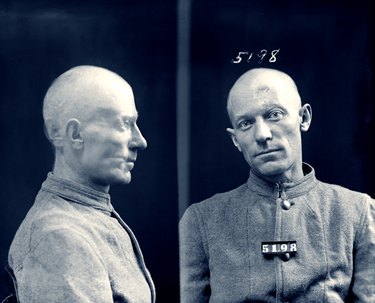 Modern "mug shots" no longer include the arrested person holding up a sign including their important booking details, as all that information is now stored digitally. However, the traditional mug shot sign has become enshrined in popular culture. To emulate famous mug shots of well-known historical criminals or movie scenes it is simple to make your own mug shot sign. Pose with it for funny photos for your social network pages or to create a humorous greeting card to send to your friends.
Step 1
Lay the card on a flat surface with its longest sides to the top and bottom and write your name in large letters along the top using the white paint marker. Use basic hand writing and do not make it too neat.
Step 2
Write a date under your name with the white paint marker. Use the date you plan to take the photograph, a special date such as a birthday or anniversary, or a historic date if you plan to pose as a famous gangster.
Step 3
Create a fictional "arrest number" and write this along the bottom of the card with the paint marker. Check historical gangster photos if you wish to use an original, or authentic-seeming number.
Step 4
Write the name and location of a police station at the bottom of the card. Use your local station or a fictional one from a cop show or movie.