Things You'll Need
Hot glue gun

Hot glue stick

Foam disc, 10 inches in diameter

Wooden dowel, 1/4 inch wide, 3 ft. long

Colorful cellophane

Scissors

Ribbon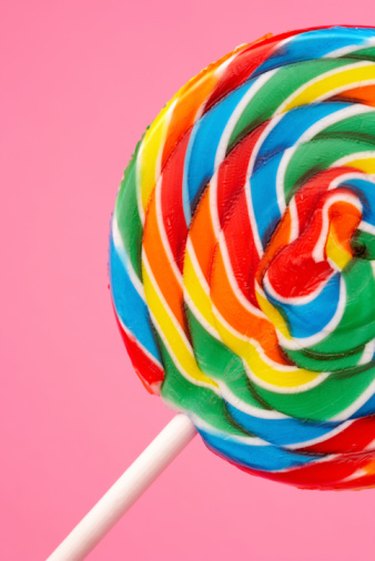 If you are going to decorate your home for a birthday or Halloween party, you may think of hanging up commonly used decorations, such as balloons, streamers or banners. One way to make the decorations more exciting is to create replicas of different party-themed items. For example, you can make lollipop decorations out of basic craft materials. Set your lollipop decorations in the yard or hang them around your house.
Step 1
Insert a hot glue stick into a hot glue gun, and plug the glue gun into an outlet to heat up for five minutes.
Step 2
Squeeze a quarter-sized dollop of hot glue onto the middle of a 10-inch foam disc.
Step 3
Press the end of a 3 ft. long dowel onto the hot glue, allowing the dowel to lie flat against the disc. Let the hot glue cool for two to three minutes.
Step 4
Cut a square from colored cellophane to measure 24 inches on all sides.
Step 5
Wrap the cellophane around the disc, and tie a ribbon around the dowel to secure the cellophane onto the disc. This will give the illusion that the disc is a colored lollipop.
Step 6
Repeat this process to make as many decorative lollipops as you need.