Things You'll Need
Metal scraper

Warm water

Detergent

Chlorine bleach

Hose

Masking paper

Masking tape

Primer (for solid cover stains)

Penetrating or solid color stain

Paint brush or paint sprayer

Clear coat (optional for horizontal surfaces treated with penetrating stain)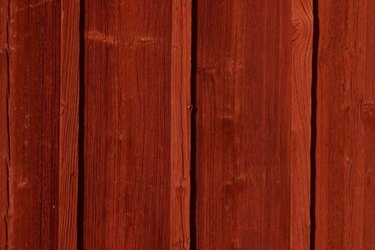 You can use penetrating stain on new, rough sawn cedar. If you wish to sand or power wash this siding effectively, however, use solid color stain. Color stain is more like paint, and it works better if the siding has already been painted or has weathered to gray. Both water based and oil based solid color stains work equally well. Oil based penetrating stains are much more durable than water based penetrating stains. Top penetrating stains on horizontal surfaces, such as decks and stairs, with a clear coat. Clear coat should not be applied to vertical surfaces finished with penetrating stains.
Step 1
Scrape off blisters and peels from any previous finish with a metal scraper.
Step 2
Treat visible outbreaks of black mold, mildew or algae on the wood surfaces with successive washes of warm water and detergent, and a solution of chlorine bleach and water. Use a stiff brush. Allow the chlorine bleach solution to remain on the wood surface for several minutes before hosing it off.
Step 3
Mask all windows, hardware and trim with paper and masking tape.
Step 4
Prime previously unfinished wood with alkyd or water-based primer before applying solid color stain. Do not prime new wood when applying penetrating stain. Allow primer to dry before applying a top coat.
Step 5
Apply at least one coat of penetrating or solid color stain to all the rough sawn cedar surfaces with a brush or a paint sprayer. Allow about one gallon of finish for every 400 square feet of wood.
Step 6
Paint horizontal surfaces finished with a penetrating stain with clear coat. Use a brush or paint sprayer.