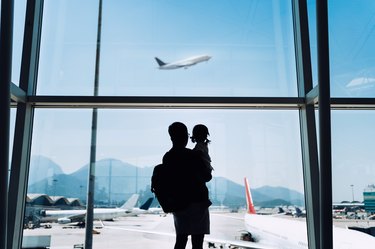 Welcoming someone home at the airport is typically a joyous moment worth celebrating. If you want to make a loved one feel extra special at the end of his journey, consider some thoughtful welcoming ideas at the airport, such as signs, flowers or small gifts. Similar ideas can be fun when you're picking up guests or visitors at the airport. Putting a little extra effort into an airport pickup can help visitors feel especially welcome and can also make it easier to find your friendly face in a crowd.
Welcome signs are the best-known way to greet someone at the airport. Drivers and guides use simple signs with group or passenger names for easy identification, but you can take the concept of the sign and make it much more fun. It needs to be large enough for your loved one or visitor to read from a distance, so choose a poster-size board and make any text large and bold, whether it's handwritten or printed and glued.
Alternatively, choose a banner-style sign, a narrow band of paper or cardboard you can hold with outstretched arms. If you are bringing several people along for an airport pickup, create multiple signs that you can hold together to create a longer message.
There are infinite options for the message and decorations on an airport welcome sign, ranging from the generic, such as "Welcome home (name)" or "Welcome to (city)," to silly puns or private jokes. Add photos, pictures or stickers if you wish. Do you want to make your loved one laugh or make a visitor feel especially honored? Do you want to playfully embarrass your sibling or make grandma smile with joy? Remember that you will be standing in a crowded space for a while with the sign, so make sure you're personally comfortable with the message on your sign.
Welcome Flowers for the Airport
Flowers are a classic choice for a welcome gift idea at the airport, as they are universally accepted as a gesture of kindness. Do consider if it will be convenient for your visitor to add a bouquet to her luggage and whether or not she will find an appropriate place to put the flowers. If you're picking someone up and bringing her to your home or her own home, flowers won't be an inconvenience. If you're taking her to a hotel or she's going to be traveling around, think twice about offering welcome flowers at the airport. If you do bring flowers to the airport, offer to carry them (or alternatively, your companion's luggage) to the car.
Instead of or as well as flowers, think about other small welcome ideas to make your loved one or visitor feel extra special after the flight. A cup of hot coffee or cold soda, a pastry, a box of chocolates, a fresh fruit arrangement or even a pizza might be gladly received. Just don't be offended if your visitor doesn't want to eat immediately.
Other Airport Welcoming Ideas
Welcoming ideas at airports don't need to be big, public gestures. You might prefer to greet visitors or returning loved ones with a small gift or an array of items that will be useful to him after landing. You might put together an array of snacks that a visitor can enjoy during the first few days of his trip. If your budget allows for it, consider including a gift card to a nearby restaurant or movie theater as a welcome gift.
If your visitor is new to your town, city, or state, it could be fun to put together a locally themed welcome gift. Make sure it's small enough to pack when he returns home or is something to use during his visit. You could find some local culinary specialties – for example, New York City bagels, New Orleans beignets or San Francisco sourdough bread. When you pick up guests at the airport, they're great conversation starters too. Visitors to notoriously rainy places, such as Seattle, might appreciate a gift umbrella, while those visiting sunny destinations could use some sunscreen in a gift basket. Souvenir trinkets are fun too even if it's just a pen and notebook with a local landmark motif.