Things You'll Need
Large cooking pot

Large, clean bowl or bucket

Large stirring spoon

Pre-washed tulle fabric

Acid-base fabric dye

Tablespoon measure

Water

Distilled white vinegar

Table salt

Rubber gloves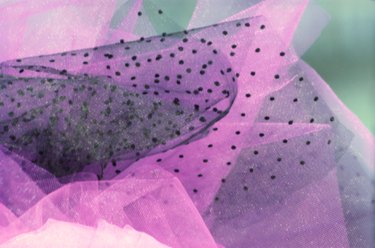 Used extensively in costumes, bridal veils and petticoats, and ballet costumes, tulle was invented in France in the late 1800s. Varieties of tulle are made of nylon, silk, rayon and other synthetic fibers. According to the Dharma Trading Company, nylon tulle is best suited for dyeing purposes. While the majority of craft tulle is imported from China and Mexico, that grade of tulle fabric is often not tested to meet flame retardant standards for garment wear. Tulle manufactured in the United States is softer and lighter than craft tulle, and is suitable for garment construction and wear.
Step 1
Pour about 2 quarts to 1 gallon of tap water (depending on the amount of tulle being dyed) into a large cooking pot, and set over high heat. Add 1 tablespoon of salt to the water, stirring to dissolve the salt. Add the amount of dye recommended by the manufacturer's directions, and stir the mixture well to dissolve the dye.
Step 2
Allow the water to come to a rolling boil, then remove the pot from heat. Add the tulle, stirring constantly to make sure that all of the material is submerged. This will ensure that the color is evenly distributed.
Step 3
Check the color every 30 to 45 seconds until the material reaches a shade slightly darker than desired, as some of the color will be lost during the rinsing process.
Step 4
Lift the dyed material out of the pot with the spoon and set it in an empty bowl or bucket. Rinse the tulle under cool, running water while moving the material around in the container, using gloved hands to avoid staining your skin with dye. Continue the rinsing process until the water runs clear.
Step 5
Rinse out the bowl or bucket used to rinse the tulle and pour one quart of distilled white vinegar into the container. Submerge the rinsed tulle in the vinegar for up to 10 minutes to set the color.
Step 6
Rinse the tulle again with cold water. Gently squeeze out excess moisture and air-dry the material.
Tip
Pre-washing fabric will soften the tulle and remove any chemical stiffeners. Remove any ribbons, buttons or decorations before washing and dyeing the tulle. If using a plastic bowl or bucket for rinsing, clean immediately with chlorine bleach to remove any dye.
Warning
The age and prior condition of the material may cause uneven dye results. Dye spills may stain wood surfaces, flooring materials and carpet, so set the container in a large sink before mixing.