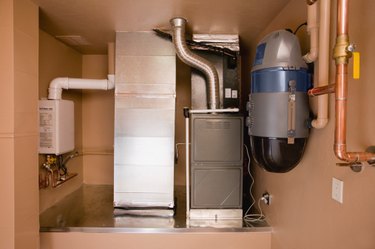 Intertherm furnace blowers are a popular product for home owners and HVAC professionals. The blower or fan circulates the heat from the furnace's burner throughout the vents of the home. Occasionally the burner will stay on constantly, for several possible reasons, causing cool air to be circulated through the house when the burner is not warmed up. More extensive issues with the burner or any furnace part may require professional guidance.
Step 1
Open up the access panel of the furnace. Most furnaces have a door that slides or screws off. Unscrew the door and set it out of the way.
Step 2
Look for the temperature limit switch. It generally looks something like a small box with a shiny covering and a white button or switch protruding from the front. Its often located in the upper, middle portion of the access area.
Step 3
Lift up the cover to the limit switch. Inside should be a large dial with several metal markers on it.
Step 4
Reset the metal arms, starting from the left, to around 90, 120 and 200 if they aren't already at these settings. These three temperatures tell the Intertherm blower when to come on, go off and the final one tells the burner when to turn off.
Step 5
Pull the white switch out to reset the Intertherm blower to automatic. This will cause the blower to shut on or off based on the designated settings.
Step 6
Wait 10 to 15 minutes to see if the Intertherm blower shuts off once the burner stops running. If this doesn't fix the problem you'll need to call an HVAC professional for help with a wiring problem or a bad fan.
Tip
In the HVAC Troubleshooting Guide Rex Miller notes that, "many professionals now recommend leaving on the blower at all times for greater circulation of heat."