Things You'll Need
Flag pole bracket designed to fit on a column

Screwdriver, Phillips or flat-head

Electric screw gun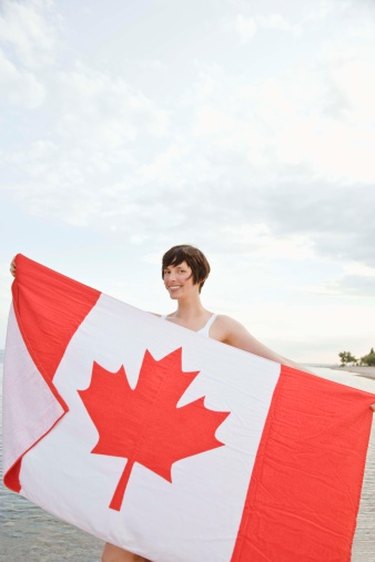 Show off your celebratory enthusiasm for a national holiday, your major league sports team or any other special occasion that warrants the flying of a flag. Flag pole brackets make mounting a flag possible on a number of surfaces. Round columns may seem to require a special type of bracket to make up for the curvature, but flag pole bracket supply companies have designed multisurface brackets that fit both flat and round surfaces. You'll have that flag up in no time.
Step 1
Set the bracket on the column where you want it mounted. Hold it there while an assistant inserts the flag pole. Have a second assistant walk around the area to gain different vantage points. Have her tell you if the bracket needs to go up, down or sideways. Take walkways and windows into consideration when figuring where to place it. You don't want the flag whipping you in the face or blocking your line of sight.
Step 2
Slide the bracket to the perfect spot and then ask the first assistant to outline the bracket with a pencil. Mark the bracket's mounting holes, too. Remove the flag pole from the bracket.
Step 3
Realign the bracket with the markings, if necessary. Screw the bracket to the column with the screws that came with it. Ensure the backside of the bracket makes contact with the column. Use a Phillips or flat-head screwdriver to get the screws started and then an electric screw gun to drive them in. Have one of your assistants hold the bracket while you attach it. Insert the flag.
Warning
Remove the flag from the bracket during high winds to avoid damaging the flag or column.