Binders with three rings are primarily used in schools and offices. You can personalize a binder by making one yourself, with your own creative touches. With your customized binder, you can hold your important notes and documents, pictures or printouts or use it as a scrapbook. Making a 3-ring binder may seem like a daunting task but it can be done successfully. With the right tools, making a binder is easy.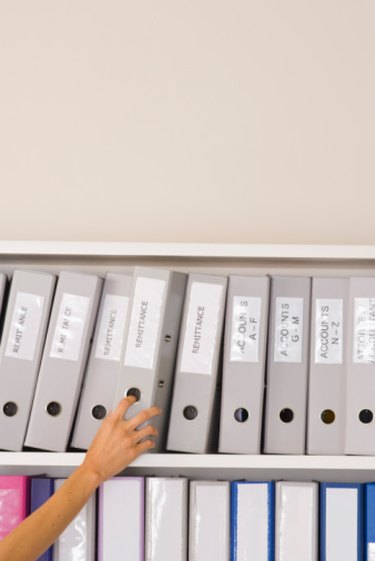 Things You'll Need
Rivets

Glue Gun

1/8-Inch Hole Punch

Hot Glue

Fabric

Cardboard Or Binder'S Board

3-Ring Mechanism

Marker

Hammer

Rivet Tool Set
Step 1
Cover the board that you will use for the binder with any fabric you desire. Measure the board and use those measurements to cut the fabric. Leave some excess fabric to place over the board. Place the cardboard or binder's board over the fabric and place a dime size amount of hot glue along the edges of the fabric. Fold the fabric over the board and hold it in place. The glue should dry between 5 to 10 minutes.
Step 2
Place the 3-ring mechanism in the middle of the board. The middle of the board will be used as the spine of the binder. Use a marker to mark the position of the mechanism; place the marker through the holes of the mechanism. Remove the mechanism from the spot.
Step 3
Create holes through the marked positions with a hole puncher. A 1/8-inch hole puncher will create the appropriate hole. Continue by inserting the rivets into the holes.
Step 4
Place the 3-ring mechanism over the rivets. Make sure that the top portions of the rivets are slightly exposed.
Step 5
Place the rivet tool set over each rivet and firmly strike down on it with a hammer. You will need to strike it down several times to set the rivet in place.
Step 6
Construct the binder completely by folding the sides of the board. Folding the sides will create the front and back covers of the binder.
Tip
It may be best to purchase an extra 3-ring mechanism to practice with, before you make the actual binder.