Things You'll Need
Mild soapy water

Sponge

Towel

Steel wool

Paint tray

Slate sealer

Roller brush

Oil soap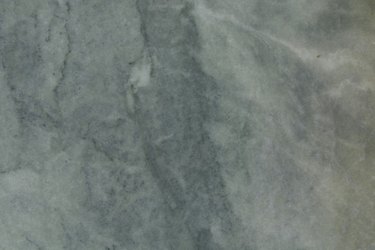 Slate countertops are available in a range of colors from gray to red and turquoise to black. Some people prefer slate to other natural countertops surfaces because it absorbs things at a slower than granite, and is generally considered anti-bacterial. Keeping your kitchen countertops looking great goes a long way toward making your kitchen look clean and tidy. Since slate is not inexpensive, it is well worth your investment to keep the surface looking good. The best way to keep your countertop looking its best is to wipe down the counters regularly; this limits scratches and edging, which can dull the surface of the counter, and apply a sealant to keep the surface looking shiny and hide imperfections.
Step 1
Remove any large crumbs or debris from the countertop with a damp sponge.
Step 2
Wipe the countertop down with a damp sponge and a solution of soapy water or a commercial cleaning product. Dry the surface with a towel.
Step 3
Scrub away minor scratches with a sponge.
Step 4
Scrub deeper scratches with steel wool. Apply light pressure when rubbing, and don't extend too far past the original scratch.
Step 5
Buff the areas down with a dry towel to ensure that there are no remaining crumbs or dust particles from the steel wool.
Step 6
Pour a slate sealer into a paint tray and roll a paint roller into the sealer.
Step 7
Apply a thin coat of the sealer onto the surface of the countertops. Allow the sealer to dry for about an hour, or according to the sealer manufacturer's instructions. Consult the manufacturer's instructions for how frequently you should reseal the slate.
Tip
To make your slate counter shine, apply a diluted solution of oil soap and buff it off before the solution dries on the surface of the counter.
Warning
Don't cut things directly on the surface of your counter. This may create etches and scratches; use a cutting board instead.